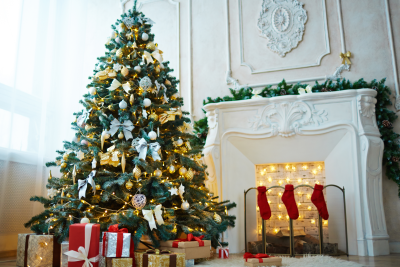 Christmas is the most joyous and awaited time of the year.
Each year we think of new ideas to celebrate the festivity in a different yet fun-filled experience. Christmas is a tradition and its values must never be left behind.
Decorate your house and tree, send greetings to friends and family, and get into that Christmas spirit.
Here are a few tips to make your Christmas as magical as it can get.
#1 DIY Your Way Through Christmas
Most of our Christmas comprises of decorations and presents. These aspects of Christmas are what make it exciting. It'll make this event even more touching for all family members if you do these things in a DIY manner.
Try making simple decorations to hang around the house and on the Christmas tree. Instead of buying mass-produced artificial items, go for handmade gifts this Christmas.
Your family will get closer to each other and you won't have to spend a lot of money.
#2 Send Greetings in a Magical Way
A personalized video of Santa and his elves is exactly what you need to spice up Christmas cards. Take a look into some of the amazing features provided by Portable North Pole.
You can input the name and picture of your recipient in the video to make it more personalized using this application.
And not just that! You can make Santa say their habits, likes and many personality traits in the video.
#3 Involve the Family Members in Deciding the Menu
Christmas dinner is, without a doubt, the most important part of this festival as all family members and friends gather in one place to enjoy a meal together.
It's an opportunity to mingle with your long-distance cousins and catch up to their lives. The meals prepared on this occasion are mostly traditional, which include, turkey, sweet potatoes, stuffing, and mac and cheese.
However, you can make some changes to your menu and ask the children for their favorite dishes to add to the menu. Bake cute Christmas-themed cookies and macarons to liven up the mood.
#4 Spread the Christmas Spirit Among the Needy
Christmas is all about giving, so why not spread it among the ones that need it? If not much, you can make Christmas cards and handmade gifts for them.
If you can afford more, you can provide them with the whole Christmas with a Christmas tree and decorations, food and gifts.
#5 Dress a Family Member as Santa
Kids' Christmas is incomplete without meeting Santa and receiving presents. They fantasize about Santa coming down through the chimney at night to give them their presents on Christmas Eve.
You should ask an older family member to dress up as Santa and sneak into the house at night for a fun experience for your kids. Santa can visit the children one by one and give them their presents.
As an added event before Christmas, allow kids to meet Santa, and ask for their presence and wishes to come true. Kids will love these Santa-centered activities and celebrate the event with good spirits.