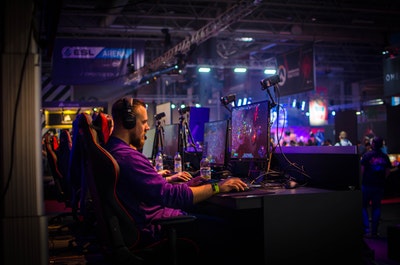 Gaming chairs have transformed the gaming world significantly. The new versions offer gamers a chance to sit comfortably, take different angles when necessary, and throw all caution to the wind.
This way, mastering their skills becomes a reality. If you are hoping to follow the path, this article gives you an insight on how to buy the perfect gaming chair.
Why Should You Bother to Find A Good Gaming Chair?
A majority of gamers complain of fatigue and backaches. Unknown to them, they take poor postures. They forget that a proper alignment of the three curves of the spine is critical, which curves and hurts as they slouch on an uncomfortable chair.
Other health complications such as cardiovascular diseases and headaches will follow. A good gaming chair eliminates all these issues. Besides this, good chair ushers in an incredible style into your home.
You don't want to get embarrassed as your friends come over for gaming but instead, making good impressions is always the goal. Still, you will make maximum use of your space by buying the chairs.
Some of them can be folded and transported when not in use. Otherwise, you can always find a chair that suits the dimensions of your gaming area.
The Perfect Gaming Chair
Having established that buying a gaming chair is mandatory, it is critical to review one of the products that do not disappoint. Specifically, the Respawn 110 racing style gaming chair is worth buying because:
#1 It Is Comfortable
This product comes with adjustable headrest and lumbar pillows to ensure that the gamer sits comfortably for hours. The armrests are padded.
An extendable footrest is offered to reinforce proper positioning. What's more, you can adjust the height or recline from 90 to 130 degrees.
If you wish to take a nap after gaming for hours, all you need to do is to use the footrest and the reclining function; the chair will be transformed into a bed-like position. When you decide to be active, the swivel function allows you to move into your space without a hassle.
Do not panic when you cannot avoid sweating during the intense gaming moment. A mesh back is provided to control high temperatures.
#2 It features a Durable Material
The leather material is used to make the product. It is not only durable, but it is also classy. You can clean it easily. The stainless frame is also sturdy enough to withstand all pressure.
Having been assured of getting value for your money, there is no reason why you should not buy this product.
#3 It Can Be Used For Varied Functions
Not every gaming chair can be used for different functions. You may be forced to part with more money as you find an appropriate chair for studying or office work.
In between games, you will be required to find a couch or bed for comfort. This product is different in that it is multifunctional. With the reclining function, footrest, and adjustable armrests, you can use it in a way that suits your preferences.
#4 It Is Easy To Assemble
You do not need prior knowledge to assemble this chair. Clear instructions are offered while the pieces are identified easily. It will only take a few minutes to put the product together.
More so, it comes with some spare parts just in case you lose some of them at some point.
#5 You Are Offered a Warranty and Support
It is not uncommon for chairs to break during the shipping process. Even when the vendors have taken a lot of caution, some screws will easily get misplaced while the delicate fabric will get torn.
A warranty is provided when you buy this product. You can also ask questions and raise your concerns with the representative support.
#6 It Rolls Easily On the Floor
If you do not appreciate chair that comes with unnecessary drag on the floor, this is the product to buy. It is designed in such a way that thin sections of the casters touch the floor.
It will roll easily and leave your carpet or wooden floor intact.
#7 It Is Aesthetically Appealing
The combination of the leather material and blue color works perfectly for anyone who wants to retain a classy look in their homes.
Certainly, the respawn 110 gaming chair is worthy of purchase. It has features that guarantee gamers of comfort, sense of class, and durability.
Are you thinking about buying a gaming chair?