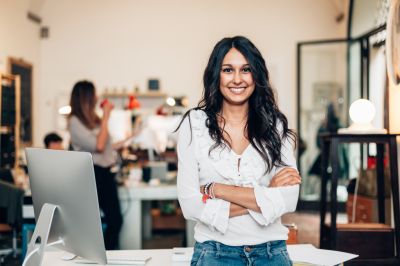 You're not quite ready to quit your current job and strike out on your own — but you're interested in starting your own side business to pad your income.
In the future, you may decide that you want your side hustle to become your full-time gig. But before you can do anything else? You need to make sure you can secure funding for your side business.
You're barely making ends meet now, so funding it completely on your own just isn't an option.
Don't give up just yet. Instead, read on to learn more about entrepreneurship funding.
1. Look into Entrepreneur Grants
Just as you can use grants to pay for your education or secure funding for a nonprofit, you can also look to grants to help you fund your side hustle business.
These grants don't need to be paid back, and there are countless options within a variety of industries. Their goal is to help entrepreneurs secure the funds they need, so you should expect lots of competition. Also, prepare for a thorough application process.
You'll likely need to write a business plan, show projections of your potential profits, and demonstrate a strong knowledge of both your target market and your competitors.
Still, though they require lots of work, these grants are excellent ways to get the funds you need to get started.
There are also grants for entrepreneurs of a specific race, gender, or sexual orientation. Check online to find out about opportunities that might be a good fit for you.
You can also speak with other entrepreneurs in your area about grants they've applied to. This is an excellent way to find out about opportunities you never even would have known existed otherwise.
2. Take out a Loan
One of the most popular ways to understand how to get funding for a small business?
Look into your loan options — yes, even if your credit isn't exactly in the best shape.
In addition to loans no credit check required, you can look into micro-loans, installment loans, and even payday loans if you require little capital.
Just make sure you study up on the terms and cost of the loan. Note the interest rate, the repayment period, any penalty fees associated with the loan, and how much you're allowed to borrow.
Stay smart to avoid getting into an endless cycle of debt. Never borrow more than you know you can afford to pay back when the loan is due. If you're taking out loans, you should also use one of the other ways to secure funding for your business discussed in this post.
3. Try Crowdfunding Platforms
Did you know that about 60% of companies that use crowdfunding to secure the funding they need are able to open their doors within a year of beginning their campaign?
With numbers like that, understanding how to get funding for a business idea through crowdfunding isn't an option you should ignore.
When you're creating your campaign, be sure that you're targeting a niche audience — the people who are the most likely to use your product or service.
To do this, guest post about your product on popular industry sites and online journals. Reach out to other bloggers and ask them to promote your campaign. Create a social media campaign highlighting your funding goals.
Incentivize people to fund your campaign by offering rewards based on the amount of money they're able to give. Consider early access to products, a discount on future services, or even a personalized shoutout on social media.
4. Meet with Investors
One of the most popular forms of entrepreneurship funding is through the use of angel investors.
These are business people who invest in local startups and small businesses in exchange for a percentage of the companies profits, or for partial ownership of the business.
We suggest heading to local startup events and conferences in your area and shaking as many hands as possible. Start developing a strong business plan and pitch to present to these investors, and don't be afraid to reach out to them via email.
5. Go Local
Finally, remember that one of the best ways to secure funding for a side business is to look to your local community.
Meet with other small business owners, and ask them how they were able to raise funds for their companies. They may introduce you to the right people, make you aware of local grants, or even offer to help you with funding on their own.
We suggest visiting the Small Business Administration's website to connect with a local business development center and learn more about their Business Development programs. The same goes for your local chamber of commerce, which can connect you to other funding opportunities in your area.
In addition to helping you raise capital? This is also an excellent way to grow your network circle.
Secure Funding for Your Side Business with These Tips
Now that you know some of the best ways to secure funding for your side business?
Now is the time to start putting your plan into action. Of course, that's not the only part of your financial life to consider.
Perhaps you've already made a few personal money mistakes in the past — and now, you're ready to correct them.
Maybe you're already running a successful business, and want to make sure you know the financial pitfalls you need to avoid to keep it that way.
Whether it's in your personal or professional life, keep checking back with the blog to make sure you always make smart money moves.
Are you trying to secure funding for your side business?