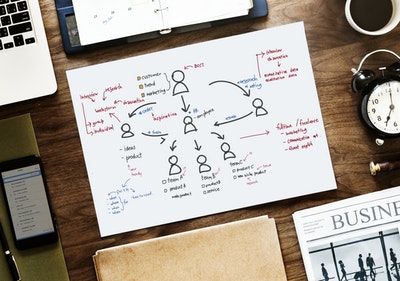 Content is a huge part of running an online business these days.
You can not scroll through social media without seeing articles, images and videos popping up from brands all over the world who are trying to make a mark with their audience.
If you want to up your content game this year and gain popularity online, here are some of the things you can do.
#1 Start with a plan
Everything starts with a plan when it comes to running a business and making amazing content isn't any different.
It might be useful before you start creating a plan of action to take a look at your competitors and see what kind of content they are creating at the moment and what kind of response it is having.
If you see an idea you like, write it down to adapt later into your own unique content. Make sure your plan includes the type of content and the subjects you want to share about.
#2 Create a calendar
When it comes to making a solid plan for your content it is always useful to make a monthly calendar which can outline what price of content will be shared on what day.
You can either draw it out with a pen and pencil or make it on excel to use again for the next month. Think about what days you want to post certain things for the best engagement, for example, a motivational post is more suited to the start of the week while a travel post is suited to the weekend.
#3 Use the seasons
Seasons and events can be a MASSIVE help when it comes to creating amazing content which your audience wants to engage with. For example, you can think about using January as a month to share goals, motivational posts, and fitness.
Easter could be about spring food and decorating the house, autumn could be about a warm and cozy night in and pamper routines… and Christmas can include sweet treats, cooking hacks and gift ideas. When you break the year down into different seasons and events it makes coming up with content much easier.
You can also use the fun holidays calendar online to allow you to celebrate things like national dog day.
#4 Reference pop culture
If you really want to stand out from the crowd and make a great impression this year for your audience you need to start keeping an eye on the world outside your brand and make some pop culture references.
This could be anything from talking about Harry Potter to making a product which celebrates your favorite TV series or a sporting event on TV.
Get with the times and show your audience that you are a person who lives in the real world just like them.
#5 Make it easily accessible
Content needs to be easy to see and easy to read for anyone who wants to engage with your brand. When you create your website start with a sitemap which allows you to segment your content into different categories such as lifestyle, food, travel etc.
This will make it easier for people to find the type of content they want to read. Also, make sure to share your blog content on social media so that people have direct links to your articles at all times.
#6 Use your own experience
When making content which you want to stand out from the crowd with, it is incredibly important that you use your own personal experience and share stories with your audience to gain trust and a bond between you.
For example, you could talk about how you named your business, how it all began and even smaller things like when you get a new dog or have a baby.
People like to connect with people, and if you can show them that you are a regular person they will be much more likely to be on your side and trust you.
However, if you lack experience another option is to do roundup where you get others to share their thoughts and experiences.  In fact here is a recent roundup that participated in.
#7 Create what you love
The moment you sit down and commit to creating content for your audience whether it be photographs, artwork, stories, video or blog posts: you need to create what you love.
Don't waste time trying to create content which you have no interest or passion for because this won't work out well for you. We never put as much passion into a piece than we would if we shared what we enjoy, so make sure that you always do this.
#8 Be yourself
The tone of voice can be a big thing when it comes to the reputation of your business and personal brand, but it is also important for you to remember that you should add a bit of personality to the content you share.
When you share a sense of humor, a quirky way of writing or anything remotely new… it can have a really positive impact on your business and it will allow you to connect with your audience in a much more tangible way.
#9 Add stunning images
Images have to be up there with the most compelling content of all. Think about all of the times you have been scrolling through something like Facebook with statuses from your friends and you have landed on an image.
Images make us stop and pay attention and this can be a really great way for us to gain traction with our audience and make them pay attention to us more.
#10 Make a video
Videos are becoming the most dominant form of content there is online and a lot of the time videos are what we immediately are drawn to when we visit a website or brand.
Think about creating compelling videos for your audience this year with life hacks, recipes, demonstrations and other fun content which will have people engaged with you right from the get to.
Video can be a great window to your business and it can allow people to feel more connected with you on a more personal level.
What are you doing to make your content stand out?