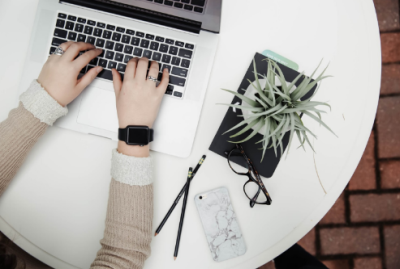 Blogging can be a fantastic hobby or a wonderful career. It's a brilliant way to meet new people, to learn new skills, to find your voice as a writer and to carve out a little bit of the internet for yourself.
Blogging can be a way into other opportunities and can lead to work in a variety of fields including writing, cooking, and photography, but it can also make money in its own right. Many people are now managing to make a full time living from their blogs.
Often career bloggers have a range of income streams. If you've got great stats advertising can make a steady income, if your audience is loyal and trusting, affiliate marketing could earn you good money, and brands are content marketing teams are always on the lookout for good bloggers to host sponsored content and write informative articles for a fee. But, one area many bloggers often neglect is selling.
Setting up an e-commerce store attached to your blog or selling to your readers directly is probably a lot easier than you think, and it's a fantastic way to make a passive income without continuously writing new content and pitching new ideas. Here's a look at 5 of the things that you could sell on your blog.
#1 Branded Merchandise
If you've got a large readership, you are in your own way, famous. Even if it's just in a small circle. Your blog is your brand, and you might find that some of your readers are keen to have a little part of it for themselves.
Printing is a fantastic option, and you can easily get your logo and branding printed on a variety of products. Try to think about what's relevant to your blog, and what your readers might like.
For example, if your blog is fitness-themed, printed yoga mats might be a good idea.
#2 An eBook
An eBook is probably one of the easiest and cheapest things to create and sell, as long as you've got enough content for an extra outlet.
People won't pay to just have your blog articles in a different format. But, they may pay for your story, your advice, a collection of your favorite recipes or craft ideas or your top tips for building a blog.
#3 Membership
If you like the idea of giving your readers extra but either don't have the time to sit and write a book, or want to create something more lasting, consider a member only area or a subscription.
Let people pay to receive more of you, but remember, they won't pay unless it's worth it, and certainly not for something that they could get for free.
#4 A Craft
Do you have a talent or hobby that you could sell? Jewelry and soft furnishings are good options. Think about what you are good at and what you enjoy.
But, when pricing remember that you should charge for the time it takes to create the product, as well as the item itself.
#5 Printables
Like eBooks, printables are relatively easy and cheap to make, as long as you've got some design skills.
Printables that you could sell could include posters, charts, meal plans, calendars, invites, activities sheets, artwork and greetings cards.
What products are you selling on that blog?