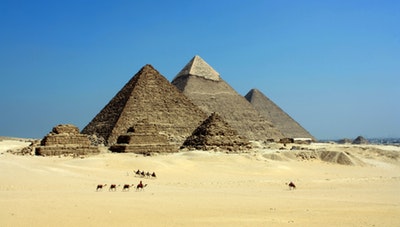 Cairo can be many things at once: a central hub for getting an education, a place to socialize, a peaceful retreat in a completely different atmosphere, and a treasure chest of historical wonders long forgotten.
No matter the reason for your arrival, whether it's a business trip or leisure, Cairo is the largest metropolis in the Arab world.
If you're still unsure which places are worth visiting in terms of broadening your horizons, the following list is bound to help out a lot:
The Alexandria Day Trip
If you're looking to experience the best that Egypt's second largest city has to offer, then this trip is an excellent choice.
Founded in 312 BC, it used to be the nation's capital for a thousand years, as the tour guide will surely explain. During the trip, you will stop by the medieval Fort Qaitbey, the National Museum, and the Alexandria Library, the mecca of human knowledge that stores in excess of 8 million books.
Finally, there's the Kom ash-Shuqqafa, the ancient Roman burial site. Spooky as it may be, it's sure to give you a bit of a breather from all the heat outside.
Sakkara Pyramids
Are you tired of all the sun and the desert sand around you? Then it's time to cool down in one of the pyramids nearby.
The hieroglyphs you will find inside are breathtaking and show how advanced the civilizations that came before us really were. If that doesn't satisfy your thirst for history, then the outdoor museum surely will.
There's no better way to form a long-lasting memory than feasting your eyes on the statue of Ramses and the great Sphinx all in a single tour.
Whenever you feel like calling it a night, the Renaissance Cairo Mirage City Hotel is just a couple of miles away. Quite a convenient option when your legs feel like giving in from all the exploring.
The City of the Dead
Why learn about history if you can experience it first-hand? Here, you will find some of the most impressive Mamluk architecture you've ever come across.
If you're interested in how the local culture approaches religion, then the mosque on the back is quite a sight to behold. If you want to be shaken up down to your very bones, don't pass up on the opportunity to see Al Arafa, the northern cemetery.
It's not only a testament to the glorious times that once were, but also a memorial site to pay respect to those who were once a fundamental part of society, but aren't around any longer.
Conclusion
Cairo is the home of numerous business opportunities, but also a way to broaden your cultural, geographical, and historical horizons.
If you're brave enough to venture outside of the city walls, you'll find that the wildlife is as diverse as it gets, but if you'd like to stay within the safety zone, there are plenty of shopping malls where you can relax and get something nice (or a souvenir to take back home with you).
All in all, this is where the mighty pharaohs used to rule. Are you full of excitement already and can't wait to see what this Egyptian paradise is all about?