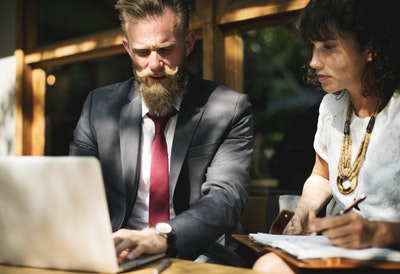 Do you feel you're wasting time trying to keep everything in-house? Watching the hours tick by as you (or an employee) frustratingly battle an activity?
It's time to consider outsourcing.
This article shares six areas to outsource while treating the actions like a business investment.
Let's begin.
#1: Web Design
Three options exist:
Done for you
Site builders
Hand-crafted
Many businesses opt to do web design in-house to save money. Yet, fail to realize their shoddy code and lack-of-design principles cost money due to low conversion rates and lackluster user experience.
Basic web design is outsourced by the hour ($150-$200/hr high-end in the U.S.) but is further reduced when passing it overseas and paired with site builders to expedite the structure and delivery.
#2: Accounting
Outsourcing payroll and business taxes to an accounting firm have several benefits:
Accountability as it's a paid service.
Security in the event the employee walks out.
Any-time access to cloud-based reporting.
An in-house bookkeeper commands an average $41,073 salary. Imagine the savings and reinvesting opportunities when it's dropped to a few hundred a months.
#3: Print
Print includes:
Marketing materials
Hard copy
The high cost of ink and toner stems from being an end user in the consumer cycle. Large-volume print companies have negotiated supply deals or acquired them from the source.
Switching to off-site printing has the ability to possibly save your business 10-15% on its production costs.
#4: Market Research
Long, tedious hours spent using keyword tools, advertising audit services, and generating manual reviews to research markets is the 20th century.
Outsource the research, instead:
Flatworld Solutions or Survata
IBISWorld or Statista reports
Small-scale efforts could include outsourcing R&D to a virtual assistant. The VA could scrape competitor keywords, ads, and copy to form a competitive analysis. They could also compile data from free reports and incorporate stats into a single piece.
#5: Software and Hardware Selection
Don't consider yourself a techie? Not a problem.
Companies like GetApp, Captera, and Tamber provide detailed reviews for business software. AndersonTech, Machado Consulting, and CRAI can handle the hardware end.
Paid services through these channels offer tailored recommendations and implementation advice.
Save more by outsourcing data collection to compile what's currently used in the industry environment along with crowdsourced recommendations through tech blogs, forums, and social platforms.
#6: Vacation Planning
Every business owner needs a good vacation after putting in long hours. Though, it's hard enough finding the time to do the vacation and travel planning with so much going on.  Whether you're looking for hotels with two bedroom suites or an extra lock-off room outsourcing can help you get this done way faster.
You can outsource the planning:
Create a list of desired destinations and your proposed budget.
Hand the flight, logistics, and transportation to the virtual assistant.
Narrow and confirm the results.
In a way, it's like having a personal travel agent without paying the high costs. This is a great way to add to your collected ways to travel on a budget!
Outsource… Everything
What's really needed on your end to keep the operation going, really?
The:
… and even then a qualified office manager and the team could keep these two pillars on track. While also expanding ideas and building branding.
Actually, you don't really need a team to handle the day-to-day operations for most things. Outsourcing puts you in touch with individuals trained and experienced in all manners of operations.  For instance, HR could be covered by a service such as cezannehr.com and you will only need a person to monitor it from time to time.
Here's a challenge: See how far you can integrate outsourcing in business. You'd be amazed at how lean the business could become.
Agree with these areas to outsource? Disagree? Share your thoughts and opinions in a comment below.