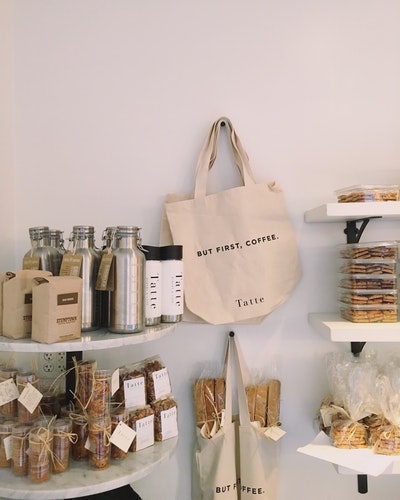 Building brand awareness is an important part of growing any business and can be achieved in a variety of different ways including conventional advertising, sponsorship of events, exhibiting at exhibitions and creating a valuable content marketing strategy.
But perhaps the simplest way to build brand awareness is by letting your customers, or future customers, do it for you through the distribution of branded promotional materials.
So rather than opting for the traditionally popular, if a little boring, branded pen, here are 10 other promotional materials that you could consider.
#1 Tote bags
With plastic bags now firmly out of fashion and many grocery stores removing customer access to them altogether, the tote bag is having its moment which makes it the perfect time to create one that portrays your brand message.
One of the most important things to consider when designing a tote bag is its usability and style, the bags that tend to be used the most are those that both look stylish and perform well, so don't scrimp on the quality and opt for a strong material that will last.
#2 Key chains
If your promotional materials budget is a little limited but you still want to create an item that is useful then key chains are one good option.
Simple engraved or embossed designs are the cheapest and also make great additions to your employee starter kit. If you want to increase the chances of your key chain making it to regular use then why not go for something more unique such as a key chain torch or key chain bottle opener?
For this idea to have maximum impact it helps if the key chain has some relation to your brand message, so a bottle opener would be perfect for a brewery, or a torch for a security company.
#3 Sticky note pads
Sticky notes are office stationery essential and therefore make the perfect promotional gift to give to your clients if they work in an office environment.
Opt for something simple which still leaves plenty of space for office notes yet still bears your brand logo and message.
Sticky note pads are also lightweight which makes them great to take and hand out at events or exhibitions, they're also easy to post which makes them perfect for promotional sales packs and are another branded item that could fit perfectly into an employee onboarding pack.
#4 Drinkware
Drinkware such as embossed glasses, printed mugs or branded sports bottles not only look great on the desks of your employees but make great gifts too.
Perhaps one of the more bulky and cumbersome items they're less suited to being posted but do look great on an exhibition stand.
Sports water bottles, in particular, are very in the moment with the demonization of plastic water bottles, they make a great addition to an exhibition stand and can be given out to attendees to refill rather than purchase water bottles on site.
#5 Mints
Food gifts are a little tricky as some taste cheap and nasty, mints are a nice safe bet and are something that most people will keep in their handbag as a quick breath freshener ahead of a meeting.
Individually portioned and wrapped mints can look great in a bowl at a trade show or exhibition, or even for your clients or guests to take at your office reception, and tins of mints are a great gift to hand out.
If the design of the tin is ergonomic and stylish then you may even find that people continue to reuse it after the mints have been eaten.
#6 USB sticks
You may be thinking that USB sticks are a thing of the past and yet, most office employees still find themselves needing to hunt one down to put a presentation on at some time or another.
If your target market is officed based or regularly uses technology then a USB stick could be the right promotional item for you, you can make your USB stick a little more special by perhaps incorporating it into a wristband or creating it out of a more stylish material such as wood.
If your target market doesn't spend a lot of time in an office then they're probably not going to be keen on a USB stick.
#7 Phone pop sockets
Phone pop sockets stick onto the back of your mobile phone and make the device easier to hold or position standing up on a surface.
They're a useful gift which people pay money for and are therefore likely to be used.
With people spending more time on their phones than ever, if you can get your pop socket design right it could be a fantastic and relatively cheap way to get your brand out into the world on a device that is taken out and used over and over again.
What promotional items are you selling to build brand awareness?