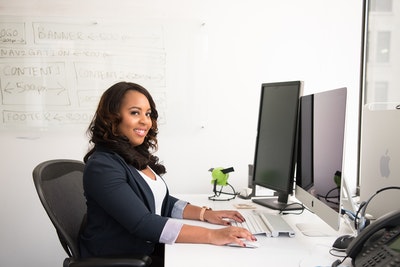 Office managers are critical to efficient business operation, regardless of size.
They manage and coordinate office administration operations to ensure the organization's optimal performance, efficiency, and safety.
A job description for an executive office manager typically involves building intra-office communication protocols, simplifying administrative procedures, and work delegation.
They're at the center of every organization, connecting every job function inside it. Therefore, an office manager requires a broad skill set to handle a wide range of tasks and expectations.
Here are the roles and responsibilities of an office manager in companies of all sizes.
1. Reception
As noted earlier, an office manager is the center of every organization. As such, they should be well versed with the operations of all departments, including the roles of a receptionist.
It's not unusual for office managers to take on the role of a receptionist, including organizing meetings and appointments, making travel arrangements, preparing special reports, and making or answering incoming and outgoing calls.
Thankfully, with the aid of cloud based call center software solutions or VOIP providers, the receptionist responsibilities of an office manager can be made easier and efficient.
That's because some of the best call center software solutions often come with features, business tool kits, and channels of communication.
Call center technology also has key features for different agents on the cloud, regardless of the phone system, providing tools like customer data, interactive voice response (IVR), historical reports, call recording, and phone numbers.
Additionally, the office manager, customer service agent, and customer support team members can exceed their customers' expectations with virtual call center software.
This will create a better customer experience on several communication channels using omnichannel routing, analytics, metrics, and CRM (customer relationship management) integration.
The best part about using a cloud call center solution is that they're easy to set up and can integrate with any CRM solution ranging from Microsoft Dynamics to Zendesk Talk and Salesforce.
This integration will empower the sales team, help desk, and remote workforce with a workforce management tool to provide a custom experience for improved customer satisfaction.
Lastly, because a cloud call center solution is an alternative to premises contact centers, it is a great way for cost savings while preserving critical features for business intelligence and innovative communication technologies.
2. Administrative
Office managers oversee the bulk of administrative processes in a company. This is why an office manager needs to understand what happens in different departments of an organization.
At times, they also have to liaise with suppliers and identify opportunities to improve processes and office management. For an office manager, we recommend taking a project management professional (PMP) certification exam.
With a PMP certificate, you don't need to have many years of experience to excel in your office management role. However, if you're worried about the PMP exam preparation, you can opt for a money-back guarantee plan with a PMP training course provider or PMP boot camp.
Alternatively, you can get assistance from an experienced project manager or expert instructor who is PMI-ACP, PMI-RMP, PMI-SP, and CAPM qualified. For instance, if you're in Houston, searching for PMP certification in Houston can direct you to various schools that offer PMP certification training.
3. Budget and Inventory
Another responsibility of an office manager is ensuring that the office's financial objectives are accomplished by developing a yearly budget that covers all the company's operations.
You'll also have to assess discrepancies and carry out any required repairs. This might require working alongside an accountant.
In addition to developing an office budget, the office manager is also in charge of taking inventory of office supplies and contacting the relevant vendor whenever supplies are running low.
It's not easy being an office manager, but it's a very important role at the heart of every business.