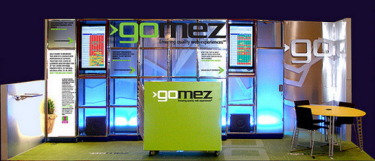 When you try to promote and expand your business, you will go to a few exhibitions.
Here you will have the chance to use a trade show booth.
This is an excellent way of promoting the company and securing a client base. Check out what is involved in the perfect trade show booth.
#1 Enticing
The perfect trade show booth will be something fun and enticing.
It will work perfectly to attract clients and make them understand why they should be using your business. There are a number of tactics you can employ to make the booth more enticing.
One will be the design and strategic positioning of it. You don't want to be right at the start as people may forget you, but if you're at the end, they may not reach you.
Try to have your booth in the middle. Make it fresh, modern and trendy, and try to be as interactive as possible.
#2 Colorful
It's pretty obvious that when you're presenting anything color plays a big role.
You can make something more attractive and enticing by ensuring you inject some color. This is crucial for getting the best possible outcome and generating interest.
A colorful design it's going to turn heads and attract plenty of attention. You may want to add splashes of different colors here and there. The idea is to make your booth or stand separate from everyone else's.
When designing your stand, think to yourself, "Is this Instagrammable?" Will people want their picture taken with your exhibit? Funky neon signs, flower walls, and funny slogans can all have this effect. Not only will this draw people to your stand, but it could also get you extra shares on social media!
You need to stand out from the crowd and generate the right kind of publicity.
#3 Professionally Manned
If you want to get the best out of your booth, you need to make sure it's professionally manned.
That means making sure you check out www.steelheadproductions.com/blog/learn-tradeshows-101/ to learn all about trade shows. You have to be sure you understand what is involved, and you have to make sure you do a professional job.
It's also important that you make sure you have plenty of professional staff running the stand as well. The idea is to make people fall in love with your business on the strength of the trade show booth.
And the only way to achieve this is to ensure that you have a professionally manned booth.
#4 Evoke Brand Ideals
The best trade show booths will always evoke brand ideals.
It has to be the same with your products and services, as well as the people you hire. It all has to lead to the same place. Everything you do as a company needs to evoke the ideals of your business.
A visit to http://www.strategy-business.com/article/00113?gko=a13b1 should illustrate why. When you create your startup, you're going to have ideas in mind for how to make your company better, and the direction you want to go in.
And you need to keep this in focus with all you do. So the perfect trade show booth will mirror these ideals. It might be eco-friendly, or you could endorse fair trade, whatever it is you have to make sure you stick to your ideals.
When you are at a business trade show, you have to think about the perfect booth. There are so many elements that go into creating your trade show booth. And you need to make sure you get it exactly right so you can enjoy the maximum reward.
Do you run a trade show booth?  What are you doing to catch peoples attention?  Share your thoughts and comments below.