Not many things are known about guaranteed acceptance Life Insurance
also known as guaranteed issue life insurance.  This is a life insurance policy that guarantees coverage no matter what your health or risk you take in life.  However before you consider guaranteed acceptance life  you may want to read over these talking points first.
5 Points To Consider
Age. First off, guaranteed life insurance usually has an age restriction for those usually between the ages of 50 to 85.  However just because you fit this age range you may want to consider other options first such as looking to a term policy first.  In fact at the end of this article I'm going to show you the difference in cost and benefits between acceptance guaranteed life insurance and a normal term policy and show you which is better.
Coverage. Second, you need to consider the amount of coverage you will need.  The typical guaranteed policy will usually go no further than $15,000 as with the AARP life insurance policy with New York Life.  This much coverage will only be enough to pay for funeral expenses.
Cash Value. Third, you need to consider if the policy contains a cash value or not.  The reason I bring this point up is because if you are considering a guaranteed acceptance life insurance policy I recommend you stay away from them and only deal with term or non cash value policies only.
The reason you should stay away from cash value policies is because at an older age you won't see much benefit from it.  For example if you bought a $100,000 universal life policy at the age of 20 and by age of 60 you had $80,000 in the cash value you would have 80% of your life insurance paid up and you would only be paying for $20,000 worth of coverage.  However at the the age of 60 a cash value policy doesn't make much sense because you won't be able to offset the cost enough to make it worthwhile.   This is why I suggest a term policy.
Ratings. Fourth, you also need to consider what kind of rating you will get by going with guaranteed acceptance life insurance.  By applying with a traditional term insurance policy you will need to answer medical questions, get a blood test and even take a physical.  This may all sound like a lot of work but the result is if you turn out to be fairly healthy your insurance premiums will be a lot cheaper.  With guaranteed life insurance you're more than likely to receive a very low rating such as standard or even worse substandard.  This in the end will drive premium prices way up.
2 Year Rule. Fifth and finally, you also need to know that guaranteed acceptance policies have what is known as the 2 year rule.  This is a rule that states that if you were to die from natural causes within the first two years of owning the policy would receive nothing or a depreciated amount.
The reason guaranteed life insurance has this rule is because they don't want people who are on their death bed to sign up for this policy and pass away a day later and only make one payment.  So to deter these types of situation they have this rule.  However if you would happen to die from a freak accident such as a car crash you would  receive the full amount.
How Much Guaranteed Acceptance Life Insurance Cost
If you look at the chart below you can see how much a typical guaranteed acceptance policy for someone between the ages of 45and 80 might cost.  So in this example I'm going to cover the difference in cost between a guaranteed policy and a traditional 30 year term policy.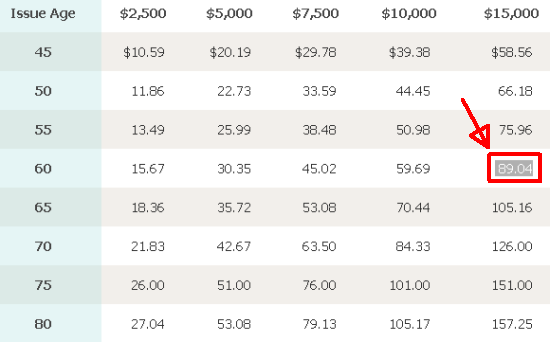 If you notice on the chart above you can see that a 60 year old man getting $15,000 in coverage will run around $90 a month.  So compare a similar policy I ran a quote on a 30 year level term policy and here's what I found.

If you notice the cost of a traditional 30 year term policy would cost a healthy male around $112 a month.  This is  $22 a month more in cost, however with the guaranteed policy you are only getting $15,00o of coverage and with the traditional policy you are getting $100,000 of coverage.  Need I say more why a traditional term policy is much cheaper.
Then to boot I should also mention if you would go with a shorter term the premiums get even cheaper.  For example a 5 year term policy for a healthy 60 year old male would only run around $50 a month for $100,000.
In the end knowing the fact about guaranteed acceptance Life Insurance
can mean the difference between paying to much to saving some serious money, which would you rather do?