Lately I've been getting a lot of people reading my article on the PayPal Scam that's been going on.  In that article it talks about how the PayPal scammers are sending out a fake email and asking for your information.  If you haven't read that article read that first.
Well it seems that the PayPal scammers are getting even more desperate.  If fact if you read my article last week on the British Lottery Scam I talked about how the scammers are taking more desperate measures to get what they want.
Now it seems that the PayPal scammers are up to the same thing.  Now instead of just sending an email out and asking for your info they are now setting up what look like legitimate websites and trying to fool you into giving  up your information.
Here is what my email read this time: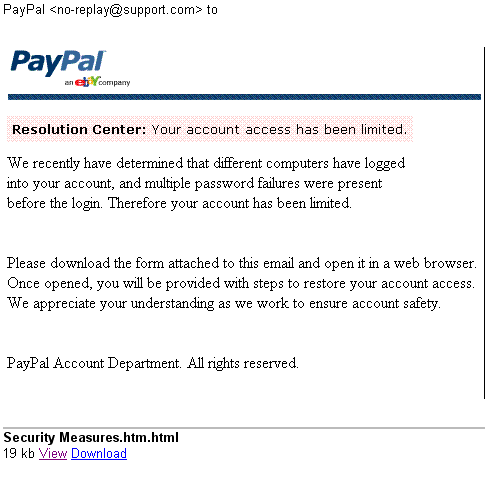 Notice how the email even has the logo at the top.  It looks very convincing, but here are a few reason how I knew this email was a scam.
The email address read [email protected] This is a bogus email address, in fact it should read something like [email protected]
Your full name is not used in the email anywhere.  The email should say something like Dear Chris Holdheide, but it has no name anywhere.
PayPal would never ask you to reconfirm you financial details once they have them.
PayPal will never ask you to download or install anything. Once I seen the download at the bottom of the email that through up a red flag immediately.
Don't let this email fool you.  So what happens when you veiw the attached Security Measures.htm.html file.  Check out the next picture below.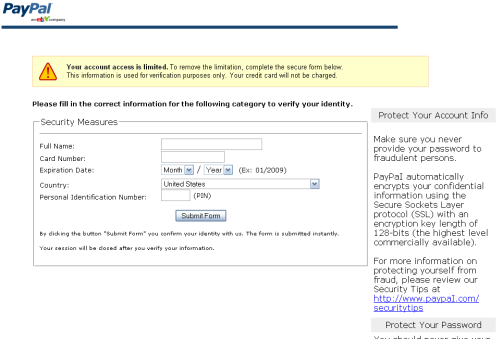 Notice how the picture resembles the actual PayPal website, but it's not the real PayPal site.  This is were I'm afraid people will get scammed into giving out their credit card information in fact that's what the form is only asking for.  It's not asking for you PayPal user name or password at all.
In this page they include a yellow box at the top telling you your account access has been limited and you need to verify your info immediately.  What every you do DON'T DO IT.
I also have to laugh a bit because they even put a blurb in the right hand column telling you shouldn't give out your PayPal user name and password to anyone and even include a link to the actual PayPal security tips page.
If you follow the tips I have listed above you should be fine however I fear this is only the beginning of what the scammers are doing in order to persuade you into to handing over your valuable information online.  In fact, I feel these scammers will get harder and harder to catch since they are getting smarter and doing things like setting up fake websites  and sending fake emails.
To keep on top of these things just sign up to my RSS Feed and you will get weekly updates on the scams, financial mistakes and garbage you should avoid online.
Till Next Time,
Chris
This post was recently featured on The Carnival Of Personal Finance Blog by Taking Charge.