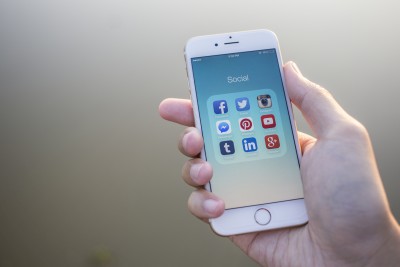 An Apple iPhone XS is sure to make a great Christmas gift if you can persuade someone to buy you one. Is Retailing brand new for just under £1,000 who wouldn't be pleased to find it wrapped in red paper with a ribbon? You can tell it's an incredible phone as soon as you see the sleek exterior of stainless steel and glass.
It's in a choice of colors such as gold, silver and space grey decorated with a swirling image of a planet in complementary tones of pinks, greens, and blues.
The casing conforms to IP68 providing resistance to dust and an ability to withstand being immersed in six feet of water for thirty minutes which means we can rest easy if we're using it in the rain.
What's Great about an iPhone?
With a height of 5.65″(143.6mm) and a width of 2.79″(70.9mm) it's compact enough to slip into any of your pockets. At just 0.30″(7.7mm) it's easy to hold and weighing only 6.24oz(177g) it could be one of the lightest on the market. The HDR super Retina screen display is a generous 6.8″ making data and images easy to see.
The iPhone XS has a 7MP front camera with a True Depth Portrait Mode for taking fun selfies at any time. There's even depth control, lighting and smart HDR to enhance your portraits. This model performs like an accomplished camera thanks to the rear 12MP dual-lens. It has the same attributes as the front camera plus 4K video recording up to 60fps.
You can get storage from 64GB to 512GB so you can enjoy taking photographs for a long time to come.
Staying Connected
This iPhone gives you fast connections and entertainment with around twenty hours of battery power and twelve hours of internet usage.
Listen to your favorite tracks for almost sixty hours or watch video playbacks for around fourteen hours.
You can even send data to other smartphones including those with Android. There's also face identification which is ideal if you're using it outside while wearing your winter gloves.
Keep your Christmas Dreams Alive with a Refurbished iPhone
If you suspect Santa Claus might not be able to stretch to the cost of a brand new iPhone XS why not drop a hint about a refurbished model?
You can easily find great bargains for half the price or even less. New versions of Apple products can be introduced before someone has had time to get their latest purchase out of its box. Anyone who is serious about technology will be tempted to trade in their unused iPhone in order to get the newest version.
Other available iPhones might have been traded in because they developed a fault of some kind.
What do you get with a Refurbished Model?
Whatever the reason you can be confident that a refurbished iPhone will have been thoroughly checked and repaired if necessary by professional technicians to a reliably high standard.
That's a service you won't get if you buy a second-hand iPhone another way. With the Data Protection Act to ensure smartphones are wiped clean, you won't run the risk of inheriting the previous owner's data or images. A refurbished iPhone also gives you the freedom to choose a pay as you go system.
All you might be missing is a few accessories and the original box but with a nice Christmas wrapping who cares?