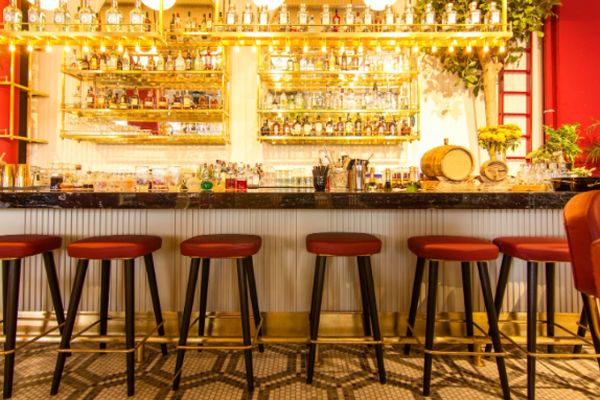 Whether you run your own bar or restaurant, or you just want to be covered in case of theft, fire, or other types of damage, it's important to know what your bar insurance may or may not cover when it comes to damages at your location.
Knowing the ins and outs of your policy can help prevent confusion when you are trying to claim a reimbursement from your insurance company.
Here's what you need to know about what your bar insurance may (or may not) cover…
General Liability
Although bar insurance usually covers your legal liability, it might not cover certain incidents that occur within your establishment.
For example, if a patron slips and falls in your bar and suffers an injury, your bar insurance may not cover their medical bills—as liability is excluded when you're serving alcohol.
This doesn't mean that you're necessarily unprotected. It just means that you might need to look into extra coverage for incidents like these; separate coverage may be required to protect you from such occurrences.
Property
As general liability insurance protects businesses from financial harm caused by accidents on your property, it should also protect your bar from any property damage to its premises.
However, bars are heavy consumers of alcohol, and there may be a clause in your general liability insurance policy that excludes coverage for losses related to alcoholic beverages or drunken driving—even if you're not at fault.
It's important to read your policy carefully and consult with an agent about specific coverages before purchasing insurance.
Workers Compensation
Workers' compensation is a type of insurance that protects an employer against liability claims made by employees due to injuries sustained at work.
Workers' compensation can cover medical expenses, partial and total disability payments, death benefits, and permanent disability pensions. In some states, it can also cover funeral costs.
However, there are specific exclusions under workers' compensation; while many workplace accidents may be covered by your policy, certain injuries and incidents may not fall under its umbrella.
For example, if you trip over a box in your office and break your ankle, you might not be able to file for workers' comp. This is because such injuries typically aren't considered work-related.
Liquor Liability
Before purchasing bar insurance, you'll want to understand what is and isn't covered by your policy. A liquor liability policy typically covers injuries that occur in your bar—such as burns, stabbings, or falls—if they are caused by someone who was served alcohol at your bar.
It may also cover damages if one of your customers breaks glasses or bottles while they are at your establishment.
Limiting Factors
Before you go any further, however, it's important to make sure that your insurance policy is going to cover all of your bases. When shopping for a policy, many buyers ask about spousal coverage. With most policies, however, there are some limitations.
Don't assume your insurer will cover everything — verify what is and isn't covered beforehand so you can make an informed decision.
For example, if you have a personal umbrella policy with underlying liability limits of $1 million per occurrence/$2 million aggregate and one of your patrons slips on spilled beer in your barroom, causing them to fall down a flight of stairs outside where they break their arm in three places, your personal umbrella might not cover them because their injuries were caused by something other than alcohol.
This is why it's so important to know exactly what each type of insurance covers before you purchase a policy or sign on with an agent.
Tips for Hiring a Lawyer for Claims
Even in your bar, we all know accidents can happen. If you're injured at work or if a patron slips and falls on your property, you may be wondering how to get compensated for those injuries.
If so, you'll want to hire a lawyer to help with your claim—but it's important to know what kind of compensation is available before you do so.
Here are some tips for hiring a lawyer for claims:
Be sure to hire an attorney who has experience with premises liability cases.
Find out about any fees upfront. Some lawyers charge hourly rates while others charge contingency fees, which means they take a percentage of any settlement you receive from your case. Make sure you understand how much money will come out of your pocket up front before committing to anything.
Don't rush into anything. You may be eager to get started on your case, but it's important to take some time to research and interview a few different lawyers before making a decision.
Get referrals from friends and family. Word of mouth is one of your best resources when you need legal advice, so ask around for recommendations from friends and family members who have dealt with personal injury claims in the past.
Find out about any experience with specific types of cases or clients.
Business Owners Policy
A business owner's policy, or BOP, provides coverage for most of your assets and liability risks. Since bar insurance is only one part of a BOP, your bar insurance may not cover everything you think it will.
You should also know that every state has different laws regarding what can be insured under a BOP. Make sure to check with your agent about what's covered in your state before you buy any additional policies.
Keeping Records of Everything
When you own a bar, it's your responsibility to keep track of all information about your business. This can include sales records, financial statements, inventory reports, and more.
The state will likely require you to produce these documents if requested; therefore, it's best to keep them organized in an accessible way. It may be easiest to scan each receipt as you go along and save them electronically so they can be easily retrieved later on.
Final Thoughts
While bar insurance can be useful in many ways, it may not cover your particular situation. It's important to do some research and investigate your bar insurance policy before filing a claim.
In most cases, you'll need to submit a claim form or an application that will require information on why you want to make a claim. Know what you are covered for and how much it may cost before filing a claim with your insurance company.