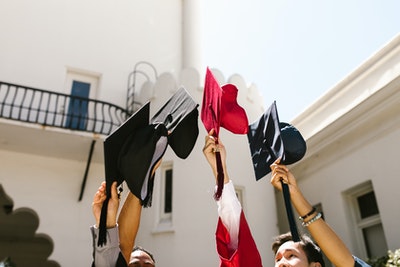 The seven tips that follow are intended as a brief but comprehensive guide to making the transition from school into the job market.
Most, if not all, of the ideas contained here apply to high school graduates and college students.
This is by no means an exhaustive list but rather a guide to get you thinking about your future.
1. Obtain Relevant Experience During High School
There are many ways to gain relevant experience during high school. One of the most effective is to work as a volunteer at a local nonprofit, medical center, or even a small business.
Many companies offer students volunteer opportunities that turn into paid internships and entry-level jobs.
When you begin working as a volunteer, explain to your supervisor that you're interested in gaining relevant experience that will help you get a job after high school.
If your supervisor doesn't offer to let you work on anything that might be of interest, ask them if it would be possible for you to complete some simple projects on your own.
2. Be More Involved in School or the Community
Get involved with extracurricular activities at your school or community to build relationships and experience working in a group environment. This will help you develop teamwork, leadership, and time management skills that employers highly value.
These types of events can also allow you to hone specific skills that are relevant to your major. For example, if you are pursuing a career in technology, participating in STEM-related activities could prove very beneficial.
3. Explore Different Internship Opportunities
Explore internships offered by local companies or colleges to get an idea of what type of fields interest you the most. Even if the internship only requires 20 hours per week, you will get valuable experience in your field of interest, and the hours may help fulfill credit requirements for college.
The skills and learning you gain through the internship will also help you stand out against other job applicants. So, don't be afraid to ask your employer what you can do to make yourself valuable to them.
Employers love people who are proactive and willing to take on additional responsibility.
4. Attend Job Fairs and Networking Events
Find out about potential jobs through informational interviews with professionals to learn about career paths within certain fields. This is another excellent opportunity to network and gain insights regarding what type of work interests you most.
Don't hesitate to reach out to professionals you know or have connections with, as well as those who are publicly known, such as celebrities and politicians.
And don't forget to follow up on LinkedIn or Twitter, as this is a great way to stay in touch with people you meet.
5. Make a List of Jobs That Pique Your Interest
Make a list of ten jobs that interest you as potential career options. Research each job to determine the average hourly pay, educational requirements, necessary internships, etc. Determine which jobs offer the type of lifestyle and environment you are looking for.
Also, compare the salaries of different jobs to determine which pay grade you can expect to be in based on your education level and work experience.
This way, you can determine that your salary expectations are realistic given the jobs you're interested in.
6. Create a Master Resume for Future References
Create a master resume that includes all relevant skills, experience, etc. Use this master resume as the basis for each resume you create for potential positions. Having a master version means you will only need to update it instead of creating a new resume each time.
For instance, if you chose the technical-vocational-livelihood or TVLstrandsin high school, this resume can include the relevant classes you took and the academic awards you've earned.
You should also include any accomplishments that relate to the jobs or internships you're interested in pursuing.
7. Maintain a Portfolio of Your Relevant Work
Maintain a portfolio of all relevant work you have done throughout high school that demonstrates any acquired skills. This could be anything from past creative projects to paid or volunteer work.
This portfolio will allow future employers to see the type of work you're capable of, and it may even provide them with ideas for your next project.
For example, if you are applying for a position as a graphic designer, having samples of your artistic creations in your portfolio is very valuable. If you have any free time between now and graduation, put together your portfolio so you have it ready to use once you are applying for jobs.
Education is extremely valuable, and it should set the foundation for any job search.
However, you must be capable of demonstrating how the knowledge gained from your courses relates to the type of work you would be doing to make yourself more appealing as a potential employee.