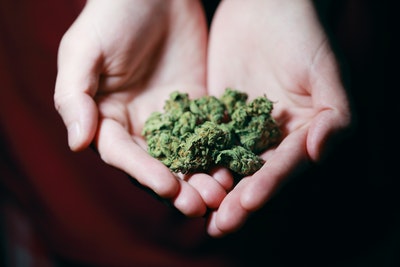 If you're looking for new ways to elevate your mood, you may have heard that cannabis is a viable option.
With states across the country legalizing cannabis for medicinal purposes, it's no surprise that cannabis wellness brands are cropping up everywhere. And while these companies may promise various benefits from their distinct products, there is some science behind their claims.
For instance, you may have heard that cannabis itself is a depressant or a hallucinogenic, so how exactly can it improve your mood?! Well, plainly put, it all depends on you and your brain chemistry, which you can read more about here.
However, if you've tried cannabis products before and enjoy the effect they give you, we have some good news. These are five cannabis products to brighten your mood that may be new to you!
Royal crafts an array of cannabis products touted for their purity and quality. And this CBD oil is no different, containing pure, full-spectrum CBD from hemp extract as well as other cannabinoids.
This CBD oil is best for people whose mood is dampened by the effects of anxiety and/or depression. It also comes in various flavors, like berry, vanilla, and mint, so you can add it to your drinks or meals as you see fit.
While we're mentioning the 500 mg version, Royal also makes more potent CBD oils. But please keep in mind, those are best for people with more CBD experience.
CBD gummies are hugely popular in the cannabis edibles market. And with these gummies by Verma Farms, you may enjoy a brightened mood after snacking on tasty sour candy-like gummies.
Each piece contains 250 mg of CBD and no THC. The CBD extract comes from high-grade hemp grown without pesticides. Verma Farms is also a company that is against animal testing, a positive for anyone who prefers cruelty-free brands.
Since these look so much like standard gummy candy, be sure to store it securely and away from tiny hands if you have children.
Improve your mood while lolling in the bath with Sky Organics CBD-infused bath bombs.
These bath fizzers are infused with 60 mg of broad-spectrum CBD from hemp. They promote a feeling of serenity, which may be a much-needed mood brightener if you've had a long, stressful day.
Not only might it brighten your mood, but these bath bombs can also pamper your skin, thanks to their natural essential oil, Epsom salt, and olive oil ingredients.
If lavender is not your thing, you can also choose from their sweet orange and eucalyptus fragrances. These contain the same amount of CBD and similar skin-loving essential oils.
If you want to put a little pop in your step, Lazarus Naturals' energy capsules may be just the solution. Since it's a full-spectrum product, these capsules contain CBD only and have no traces of THC.
Each capsule contains 25 mg of CBD as well as caffeine from green coffee beans, mushroom extract, and B vitamins. These CBD capsules may brighten your mood and provide energy for hours, but be sure to try only a single capsule at a time when you first try them.
As its name suggests, Kikoko created this tea to promote "mood + joy" in its drinkers. It contains 5 mg of CBD and 10 mg of THC per bag, so beware that since it has THC, you may feel a more euphoric "high" than with products that only contain CBD.
This tea also comprises green tea, peppermint, spearmint, organic cane sugar, licorice, and lemongrass. It's a caffeinated green tea, so you'll also experience a lift from the caffeine component. With its mint, sugar, and lemongrass inclusion, you can expect a tea that tastes like your favorite sweetened herbal tea.
Kikoko suggests you drink one cup and wait 90 minutes to see what effects it has on you since it has a more prominent THC ratio. You definitely don't want to overdo this one if you're new to these types of products!
It's a possible alternative for people who want to enjoy CBD and THC-laced edibles, such as gummies, but do not want to consume lots of sugar, carbs, and fat.
Conclusion
While we cannot say "go out and try these, you'll feel incredible!", it's worth examining the types of cannabis products out there. These are just five of the many that may brighten your mood.
If you're over the age of 18 and interested in these products further, use caution when trying any of them. Enjoying too much cannabis at one time can lead you to have the opposite of a bright mood!