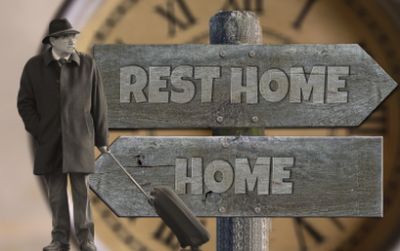 With the Baby Boomer generation moving into full retirement age, the concern for many families has become determining the proper housing solution that will be best for every family member.
Most seniors would ultimately prefer to stay in their own homes as they age, but that is not always the best and safest route to take.
If your parents are starting to have health or memory issues, it may be time to start thinking about what is best for their long-term care.
The heavy responsibility often falls on other family members, but for seniors that have no one living close to them, staying in their own home can cause some safety problems.
Finding an assisted living facility that has an excellent healthcare outreach program is one option to consider while hiring in-home health care services is another. Take a look at the considerations — both financial and health-related — that you should be looking at before you make a decision about home care or assisted living for your senior parent.
Cost Factors
Senior care prices can be largely dependent on the area in which you live, as well as the level of care that is required for each person. If you are thinking about bringing someone in for daily home visits for your parent, you will be looking at a minimum of $20/hr each and every day.
The cost of assisted living facilities can also vary widely. For example, the cost for a single room in an assisted facility in Missouri will cost you approximately $2200/per month, but in Alaska, the same room may cost you up to $6000/per month.
There is every reason to shop around when you are looking at assisted living for your parents. The level of care, size, and style of each facility and the extended programs that are offered should all be a part of the decision-making process.
Living Expenses
Most seniors would prefer to stay in their own homes for as long as possible. The level of comfort and familiarity is important, and the thought of moving to a new place and giving up their home can be a difficult thing to ask of most people.
The thing to keep in mind is what is going to be the most affordable, the safest and the most practical long-term arrangement for your parents.
When your parents choose to stay at home, they will not only have all of their regular expenses to continue paying including mortgage, utilities, and insurance, but also the added expense of having outsiders come into the home for health care.
At an assisted living retirement home, all of your overhead costs are included in the cost. Things like rent, meals, maintenance costs, and basic utilities are all factored into the final price. This may give you a broader picture of the affordability of assisted living costs.
Safety
For family members, the largest concern about senior parents living alone is safety. It doesn't take much for a fall or small accident to lay someone up for weeks or months. If your parent is starting to show signs of dementia or Alzheimer's, there is a definite danger to them living on their own.
In an assisted living environment, your parent is much less likely to have to deal with emergency issues on their own. You and your parents can feel safe in the knowledge that there is always someone around when they need any assistance.
What are you considering home care or assisted living?