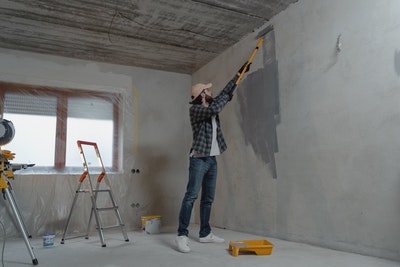 The pandemic that caused most of us to stay indoors has resulted in a higher awareness of the real estate industry.
More and more people have become financially aware of how wise it is to be investing in our homes.
Ditching rent costs for an investment that only appreciates in value has now become the norm. The new normal hasn't left us in the best of financial situations, though.
Many people have lost their jobs as businesses shut down or downsized their workforce.
A keen eye for creative solutions and ample industry knowledge can help you navigate the housing landscape, even in the midst of a global crisis.
Fixer-uppers or houses that still need a bit of love before being put up in the market have become a popular choice for investors and future homeowners. Whether you're looking at properties to flip or a home, you can get a reasonable price that you'll need to remodel.
Choosing to go for existing structures is understandable in the current economic situation. People may want to move in early as they can't afford to be spending their money on rent anymore. Homeowners that are now looking to put their properties up on the market are also increasing.
There are a variety of techniques and best practices in the industry to get a house from livable to homey. Here are some of the simplest but effective ways to spruce up your properties or homes:
1. Spruce it up with a fresh coat of paint
Whether you've decided to put your house up for sale or are currently moving into a new home, a new coat of paint for the inside and outside of your home can do wonders to bring the place to life.
Repainting is cost-effective and the obvious first step to getting the house ready.
A great color palette can help make the home look bigger, brighter, and cleaner. Accent walls can accentuate and divide rooms to make the space feel more spacious.
Color accents on the outside of the home also help draw the eyes to certain unique parts of the structure that can add to its curb appeal and overall image.
2. Invest in great light fixtures
Great lighting is essential. It goes a long way in getting a property to sell or in establishing a warm home environment. Investing in great lighting fixtures helps to accentuate the space and give it a great ambiance.
There are a variety of ways you can choose to light up your home. Whether you decide to go for more modern light fixtures or traditional ones, it only depends on the design concept you've chosen.
Yellow toned lights have had an increase in popularity as they tend to evoke a homier, romantic feel to homes. In comparison, natural lights lend themselves to appear cleaner and sharper. A mixture of different tones and styles can also be used in other parts of the home.
3. Dual-purpose storage spaces
Modern homes are now devoid of the clutter we'd gotten used to in the past. Although staging homes for walkthroughs is still a thing, we've now come to embrace more minimalist styles.
Keeping the space open enough while still offering options for storage can be tricky. Big and bulky furniture can take away from a home's aesthetic, no matter how practical it is.
Dual-purpose spaces have become all the rage as it maximizes your area without having you feel too cramped. They are utilizing stair space as added storage, hidden storage under kitchen islands or benches, and even adding custom-built pieces to fit seamlessly into your layout.
Storage will always be a factor taken into consideration when buying a home. Make sure it's present without being the focal point for the property.
If you're looking to get into other aspects of the real estate industry as it gains traction in the upcoming years, you could also look into other avenues in the field. Real estate agents and brokers go through extensive training to better help buyers.
As a broker, you could establish your own brokerage or choose to work for a development company.
REIT or real estate investment trusts are also a great option to look into if you're familiar with how the stock market works and looking at other investment opportunities.
Real estate marketing has also been booming post-pandemic as businesses turn to digital pursuits to better their reach and brand presence.
If you're looking to purchase a property to serve as your home base and not just an investment, thorough market scouting in multiple locations will be crucial to finding you the best property.
Virtual tours and consultations are still very much a thing, but seeing properties in person is still ideal. Having a list of deal-breakers for you also helps you narrow down your prospects.
Determine which aspects of the home you'll need or utilize the most and build on those priorities. Whichever way you're looking into the real estate industry, it's a great time to learn more about our homes' business landscape.