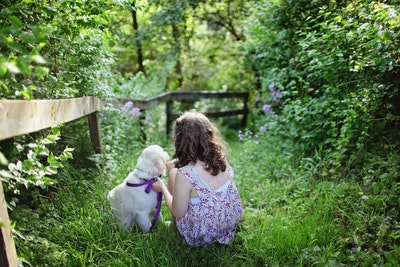 There are few things more exciting than becoming a pet owner, and having a dog can be an incredibly rewarding experience.
However, owning a dog means that you'll have to make some changes around the house in order to create a safe environment for them.
Dog-proofing your home is essential if you want to keep your pup safe, and it's worth enlisting some expert help if you're not sure where to start.
Plants and flowers are one source of concern since many common houseplants can be toxic for dogs.
If you're a dog owner or you're considering bringing a furry friend into your life, keep reading to learn more about what plants are and are not safe for dogs.
What plants are safe for dogs?
If you're a pet owner and you like keeping greenery in your home, it's important that you stick to safe plants for dogs. Spider plants, peacock plants, and maidenhair ferns are great choices for anyone with a dog in the house.
Many succulents are also pet-friendly, and they're a good pick for beginners or those without a developed green thumb.
Almost every home looks better with some plants and flowers to liven up a room, but anyone with pets or children will have to do a little bit more research before making a purchase.
There are a number of incredibly common poisonous plants, which you'll need to keep away from your dog. These include tomato plants, sago palms, aloe vera, ivy, amaryllis, gladiola, daffodils, and baby's breath.
These are just a few examples from the long list of plants that are toxic for dogs to ingest.
Some of the chemicals contained in these plants can be fatal for dogs, so it's of the utmost importance that you keep them out of your home and do everything you can to keep your dog from coming into contact with them.
Can dogs use CBD?
Since CBD is derived from the cannabis plant, you might be wondering if dogs can safely use CBD products. CBD is short for cannabidiol, and its use and sale became legal in the United States after the passage of the 2018 Farm Bill.
While research is still ongoing to determine the precise medical benefits CBD may have, many people use it regularly as a part of their wellness routine.
There are anecdotal reports from pet owners about its effectiveness with regard to chronic pain and seizures, though there is no definitive scientific data on the subject yet.
If you're considering CBD for your dog, it's a good idea to talk with your veterinarian first. Not only can they help you with the proper CBD dose, but they can also give you advice on what else you can do to keep your pet happy and comfortable.
They can also tell you how CBD may interact with your pet's health conditions or other medications. Whether you're a human or an animal, proper dosing is essential if you want to have a safe and positive experience with CBD products.
When you own a pet, it's your responsibility to keep your home safe for them, which includes sticking to dog-safe plants if you want to have some greenery in the house. Luckily, there are a wide variety of houseplants you can choose from that are still non-toxic for your pet.
Plant-based compounds like CBD can also be used by dogs, though it's important to talk to your veterinarian before doing so.
While it can take some time, it's essential for every dog owner to know if the products they're bringing home could potentially be harmful to their furry friends.
If you want your dog to stay healthy and happy, make sure you're careful about ensuring everything you keep in your home is pet-safe.