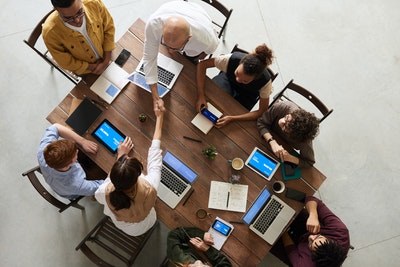 Owning a business can be hard, there's always stuff to do and it's a never-ending cycle of jobs and growth and struggles.
When you first start you find out that you have to do all the tasks even ones that you're not comfortable with or familiar with which can pose issues in the long run but once your business starts to grow it's something that you can then outsource to other people.
There are lots of things that you can do to help your business grow, upgrade and fix certain things that you need to as well as expanding and outsourcing in different areas.
Social Media Is Key
One great thing to invest money and time into is your social media platforms. So many people now use social media as the first port of call when looking to find a new business to shop with or finding a new service they want.
They look for what people are saying on social media, what the account looks like and how your business presents itself to the world. So Investing in having an active and engaging account is very beneficial if you aren't an expert in social media.
There are a lot of online courses that you can do for free and if it isn't something that you're interested in managing as it is quite time-consuming you can outsource this to a social media manager.
Make Use Of Influencers And Bloggers
Another aspect of social media that you could incorporate into your business to help it grow is for using influencers and bloggers. There are bloggers and influencers for all different business types. They are seen as experts in their field and trusted reliable sources for information and recommendations.
A lot of them will do collaborations with businesses where they are either gifted products or services or paid a monetary value to promote a business to their audience. This could be in the form of pictures, writing, and video.
It gives your business a chance to get out to a whole new demographic and new audience that it wouldn't be able to reach otherwise. It is certainly something to look into as they are very successful and a more affordable form of marketing which is widely used these days.
Get Repairs And Issues Sorted
Something that is often forgotten about but is important to keep on top of is to fix and repair things in your business. It can be more expensive for your company if you leave things broken or needing repair.
It can cost you more in the long run. Important parts of businesses that need to be kept on top of for regular repair and maintenance are things like production lines and trucks and vehicles you use. If you look to have companies you use regularly you will know you can rely on them to get things sorted.
So if you need trucks and vehicles to be fixed and repaired you can look to use M&L Truck Service.
Happy Staff Is Crucial
And a bit important element to focus on in your business if you haven't already and ongoing is to make sure we have happy employees. Happy employees are proven to work harder and be more beneficial to your business.
When people feel that they are valued and appreciated they are happier at work, more productive, and more efficient which is more cost-effective to you and help your business grow. Having regular catch-ups and finding out more about your employees and what their interests are can give you more of an insight into how they can benefit your business in different ways.
You may have employed someone that does admin and reception work but is an avid blogger and writer in their spare time which can then allow you to even have them write articles for your website.
The other way that you can help your employees feel valued is by a reward system that could be through the monetary bonus, potentially with the election day off if they do their work promptly or even just a little gift here and there are very effective.
So at Easter time, you could give them an Easter egg. At Christmas, you could get them all a little present and you could also look at just the occasional treat of a cupcake for everyone when time is busy or a gift voucher for an activity or something like that.
Automation For Ease
Being productive is an essential part of a business to help things run smoothly and be more efficient by the workload and also from a cost-efficiency point of view.
You cannot have part of your business methods put into an automation system where things automatically run and save you a lot of the time-consuming elements. There are so many parts of the business that can be automated which saves a lot of time, a lot of human error instances, and is better overall for your business growth.
Flexible Or Reduced Hours
A lot of businesses in a lot of parts of the world that are being introduced into the mainstream are, if possible, opting for a four-day week. There's been a lot of research and trial and error with this but it's found that people work harder in the four days and get the same amount done potentially even more so they can have an extra day off in the week.
It promotes a better work-life balance and again contributes to happier employees in the business.
By being flexible and allowing people to have a better work-life balance it improves that overall mental health reduces the risk of burnout and can still help your business thrive and grow during normal business times and during busy times like at Christmas or other holidays you can always opt-in for overtime for a five day week to get things covered and dealt with.
Depending on what type of business you have a lot of these can be implemented and look to be included in your business model which can help your business grow and thrive. Growing a business can be hard so things like this can help you propel forward in your industry.