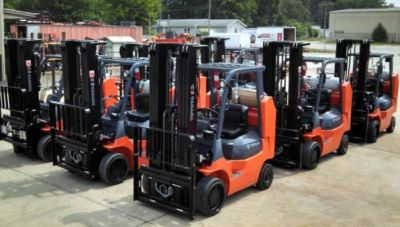 Many businesses often try and find vendors aside from the services they provide themselves, to help them extra resources.
Many of those who are within large establishments and specific sectors, such as construction, manufacturing, and automotive, for example, may not have everything they need under one roof, and so tend to outsource or buy their goods and supplies from external dealers.
One such service many businesses look for in the abovementioned industries is something to help them lift heavy goods, a forklift comes in handy in these instances.
But with so many options available on the market and the assortment of suppliers, how do you choose the best one for your needs? It will depend on a few factors such as your immediate needs versus your long-term needs.
Below we look at how to go about finding the best one for your business requirements.
A Dealer Who Understand Your Needs
You can either lease a forklift or buy one depending on how much funding you have. In many cases, the ideal requirement from both parties should be a good relationship with the supplier, and someone who understands your needs.
If you are looking for a regular partner who can provide you with a forklift as and when needed, the ideal thing to do is to build a steady relationship with them.
Someone who is attentive towards your business requirements and material handling needs like conveyors, lift trucks and more:https://www.industryweek.com/supply-chain/planning-forecasting/article/21953158/five-things-you-need-to-know-about-material-handling would be the best way forward.
Someone who knows the workflows of a warehouse and the challenges that most face, will be more efficient and trained in providing the right equipment for you, as well as have good condition vehicles.
The majority of them also come with a service technician who can repair and maintain the machinery on an ongoing basis. Look for someone who has had years of experience and hands-on knowledge of all things forklift, and if they own an entire fleet, even better.
Factors to Reflect on When Selecting a Dealer or Supplier
You should inevitably do some background homework before purchasing or leasing the required machinery, and the list of items below are just a few factors to take into consideration:
They should reflect a commitment to unmatched customer service
They should be available within a short time and have quality parts
If you're looking for an extensive range of services offered and products, look for this in the company you choose
Look into the company history as well as their reputation through customer reviews etc.
They should ideally have a well-qualified team of mechanics and technicians available for repair and maintenance purposes
A solid collection of strategic upkeep options
Longevity of other key team members (experienced, staffers, sales specialists, and executives)
Word of Mouth and Customer Service
One of the most invaluable aspects that can't beat any other form of marketing is word of mouth. When evaluating the repute of any supplier or dealer, it can be useful to ask around for any recommendations and for the suppliers to provide any references of customers they have previously worked for or who have bought their supplies.
Speaking to other similar industries can help you to gain a better understanding of how responsive and efficient the company is once they have made the sale to their customers.
Because in most cases, suppliers disappear once their item is sold and they have the money in their hand and it can be difficult to then get in touch with them when the need arises.
Ask yourself if they have had good customer service from the word go. When you call to seek relevant information, do they handle your query professionally and efficiently?
Did they give you the right information and were they friendly? Excellent customer service is a good indicator of a company that is well-run and knowledgeable.
If buying isn't an option, you can rent forklifts here from dealers that offer a range of different types of vehicles for both indoor and outdoor use, as well as an assortment of different electrical, gas, or diesel options.
When you have a choice, you can save yourself a lot of hassles, delays, extra costs, wasted time, and logistical issues.
Look for those who not only deal in these but also in other substantial management solutions to help you minimize downtime in your business and maximize efficiency throughout, and this can only be done through specialist merchants and providers.