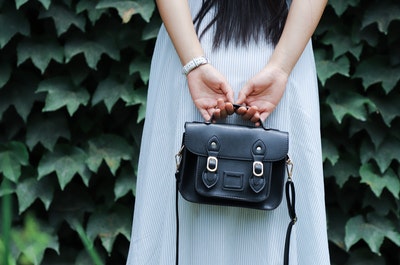 At one point, you may ask yourself, "Do I really need this bag?"
It could be outside of the normal spending power, or it could be well within your budget.
Even then, you may find yourself having to get money from your saving to buy that one pretty handbag.
You're not alone. In fact, a lot of people actually save to purchase the handbag of their dreams. That's how amazing handbags are.
4 Reasons Why Handbags Are Definitely Worth It
Convenient, fashionable, and a great investment–these are only a few reasons why a handbag is a must-have. Here are important points on why using your savings to purchase a handbag is not a total loss:
Handbags Are an Everyday Essential.
Wherever you go, you need to carry a few things with you. Sadly, all these things don't always fit in your hands.
If they do, you might end up with sweaty palms or have a tired hand at the end of the day. Your things will also be prone to get lost or snatched away.
A handbag helps you carry all these things without the hassle of carrying stuff one by one. Just pop them in the handbag, and you're good to go.
Handbags Add More Personality to Your Outfit.
People say handbags say a lot about a person, and that could be true. But on the other side of the coin, a handbag adds a little more detail to your outfit.
For example, you're wearing a basic outfit, like a plain tee and a pair of pants. You can add a little color to your outfit by choosing to wear a printed handbag or a bold-colored one.
Handbags Are Fashionable.
There's a reason why the media keep an eye out for celebrities' bags, and it's because they've always been so fashionable. In the world of luxury items, handbags never fail to have a spotlight on them. This is why brands continue to improve on their handbag collections.
However, you don't have to shed 10,000 USD or more to be fashionable. If you're worried about the budget, some brands make luxury bags without hurting your bank account too much.
Guess has a whole collection of handbags for women that are equally fashionable and elegant.
Handbags Are an Investment.
Research has found that designer handbags are better investments than art, classic cars, and rare whiskey. In the last decade, handbags from luxury brands have increased in value by 83%. This is significantly higher than watches which only experienced a 72% increase within the same time.
Bags that are limited edition offer a faster return of investments as well. They also have a specific set of demographic, bag collectors.
These people will pay twice or thrice the price of the bag.
A Care Guide for Your Beloved Handbag
Now that you've spent a chunk of your savings on a handbag, it becomes such a special thing.
For some, their handbags are like their babies. They build them a room of their own. Some even place them in a vault. No matter how special or how luxurious your new handbag is, it's best to give it tender loving care.
1. Clean
The cleaning materials and methods will be different for each handbag. If your handbag is made of nylon or cloth, hand washing will work well. On the other hand, baby wipes or leather wipes should suffice for leather.
2. Stuff It
To avoid creases or misshaping the handbag, stuff it with cloth or paper. Leaving it empty makes the bag deflate. Keeping it that way for a long time in storage affects the whole aesthetic of the bag.
3. Don't Hang It
It's easy to place your bag on a hook at the end of a tiring day, but don't be tempted. Placing it on a hook will risk misshaping and stressing the handle.
4. Use a Dust Bag
Protect your bag from light and particles in the air by placing it in a dust bag. This will also protect the bag from being exposed to direct sunlight or too much artificial light. Consider adding labels for identification purposes as well.
5. Set the Ideal Storage Conditions
Additionally, place a dehumidifier or silica bead packets in your storage to prevent humidity from compromising the leather. Don't expose the bag to direct sunlight as well.
The Takeaway
Owning a handbag that you like is more than just another shopping temptation. These fashionable items return your investment, making your life a lot easier.
At the end of the day, you can look at your new handbag and thank it for being so great.