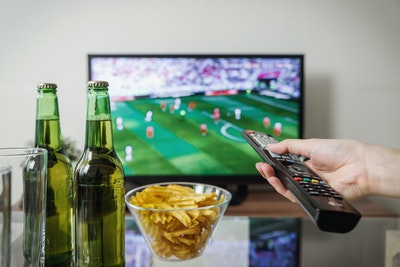 It will not be wrong to say that broadcast TV and cable TV are two different modes of television delivery.
Quite often, cable TV is perceived to be more diverse, complicated, and costlier as compared to the broadcast world.
Broadcast TV is a primitive form of TV where signals are simply transferred by radio waves to homes.
These over-the-air signals, carrying the channel feed, reach the set receivers, which in turn translate them into playable content and show them on the connected TV screens.
Also commonly known as the basic channels, CBS, ABC, CW, or FOX reach our homes via the broadcast TV system.
Using a simple antenna that we attach at a good spot, we can receive the transmission in high quality. However, nowadays almost all the broadcast channels are transmitted either through cable or satellite.
Cable TV, on the other hand, transmits television signals utilizing coaxial cables and requires the users to pay a monthly subscription. A popular cable service like Cox cable offers hundreds of channels and FREE HD through its state-of-the-art cable system.
Broadcast TV was the first among the two to come into existence, somewhere around the 1940s. It ultimately reached every home and made it to a bigger audience.
This set the ground for sponsors to sell their products, and broadcast TV thus became an attractive platform for carrying out marketing campaigns and ads.
More and more potential customers could be reached at one time and it resulted in better profits for the sponsors. Let's dive deeper into the comparison between cable TV and broadcast TV.
Nature of Shows
Broadcast TV dramas usually have a shorter story, where the plot seems to be mainstream. Something goes wrong in the beginning, and then it is solved in the latter part of the story.
The gist of it is that the narrative technique we commonly observe in the broadcast industry has been kept anxiety-free, so there's less complexity.
Cable TV, on the other hand, has a much different perspective on the world. The storylines are more complex and there has been a paradigm shift whereby things are not always meant to be right and happy in the end.
Let us admit it… that is what usually happens in the real world.
Advertisements
There is a visible difference in TV advertising when it comes to broadcast TV and cable TV. Each of them has a unique set of benefits and target audience.
For an average user, the broadcast and cable ads might seem almost alike but the fact is that broadcast TV is more common, especially in the United States, so it has a greater target audience.
The broadcast channels make use of public airwaves to deliver programs that are available to a TV set as per the range of the broadcast transmitter.
Many of the broadcast channels are more commercialized channels, as they gain their revenue mainly through advertising. These primarily include channels like CBS, NBC, CW, etc. While the non-commercial channels are the ones that use donations or have other sources of revenue.
The cable TV channels, on the other hand, are not transmitted via public airwaves. The users are charged a monthly subscription fee for receiving cable feed in their homes.
Thus, the main source of revenue for cable companies is the subscription fee along with the commercials. The broadcast channels charge for advertising space or ad slots.
In fact, marketers and advertisers preferably sell their ads to the broadcast channels since they cater to a larger audience. The reason is that broadcast channels are accessible almost everywhere.
So, even if you live in the middle of nowhere where you do not find any cable TV provider offering coverage, you can always make use of an antenna and place it in an elevated suitable place.
You are likely to receive transmission by the broadcast networks. The commercials being aired on the various broadcast networks make their way to larger demographics and have greater chances of attracting potential customers.
Premium Channels
Channels like HBO, SHOWTIME, and more are known as premium channels and can be added to the cable TV subscriptions if you wish. They are also accessible digitally.
These premium channels come with extra subscription charges and do not generate any revenue through advertisements. They do not air commercials during their programs, which is why they come at an additional subscription cost along with a cable TV plan.
Wrapping Up
Though an average user might find broadcast TV and cable TV almost similar, the fact is that there is a major difference in the two delivery systems, nature of shows, accessibility, source of revenue, and cost.
Broadcast channels are more readily available and usually, come free of cost while cable TV channels come for a monthly subscription fee and do not have coverage everywhere.
The ad slots over broadcast networks cost more as compared to cable TV channels and serve as the main source of revenue for broadcast TV.
On the other hand, cable TV relies on both monthly subscription fees and commercials as a mode of revenue.