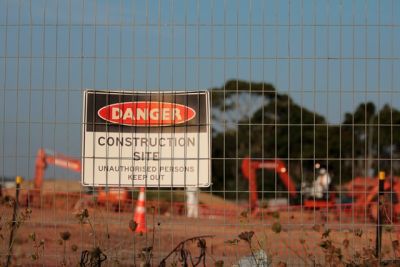 Construction signs are a normal aspect of modern life. Whether we're a pedestrian or driver, we associate roadworks or construction work around us to be labeled appropriately.
It provides recognizable notices of construction and keeps everyone safe while allowing the workforce to get on with their job.
Because they are such integral parts of modern life, it's possible that you don't notice them very often. You take them for granted, but you would miss them if they weren't there.
Health and safety issues are not only vital for those external to the construction site.
They also offer construction signage for safe sites too.
Keeping Sites Safe With Construction Site Signs
The law requires modern construction sites to have certain levels of site safety, whether you are using a cidh pile that is applied in both wet and dry conditions, you are constructing scaffolding, or demolishing a building. This protects everyone involved, from the construction workforce on the site through to the public around the site.
Construction site signs also serve as a deterrent to site visitors and any trespassers, ensuring that a site has fulfilled its lawful responsibility to declare an unsafe environment. The visual language of construction signs also helps those who don't speak English as a first language to understand them.
Arrows, speed limits, and the very presence of construction signage help alert workers and civilians to be careful. These signs can highlight issues such as raised ironwork, diversions for vehicles and pedestrians, or signal site entrances.
Construction site safety signs can and should be available with custom text printed on them. This acknowledges the fact that all construction sites are different and have different hazards on them. Diversifying the signs on your site ensures that people are aware of the unique characteristics of your site.
This level of safety goes beyond the levels required by law and, as such, the working environment will be safer for your workforce. Don't make signs too complicated though – if people can't understand then the signs can cause additional traffic and safety issues. If you need a specific one you can look here at sign options to see what will work for you.
Roadworks Signs Must Be Durable
The use of construction traffic signs is a common sight on streets. We're used to a particular type of sign, those announcing roadworks ahead and giving details of the problem. They can alert us to anything from road flooding issues to a simple diversion for pedestrians across another footpath.
In order to be effective, though, these signs need to stay put and to be clear. Roadworks signs must be made out of durable material that doesn't buckle at the first opportunity. Equally, they should conform to the regulations on reflective faces.
This ensures that the signs can easily be seen. These two factors sound as if they can be taken for granted. However, the truth is that there are many cheap imitations on the market.
For the construction industry, it's vital that you only buy from reliable manufacturers who have a strong track record in delivering quality products. Without this assurance, you risk putting your workforce and the public in danger by displaying construction signs that may not last. Along with this, while the sign may last for one job, buy it properly and it will last for much longer.