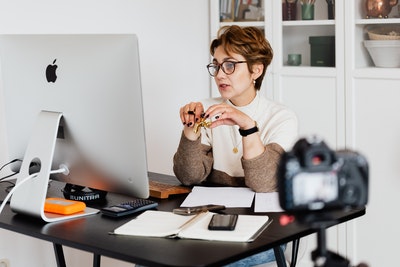 Webinars are an incredibly cost-effective and reliable lead generation tool in your marketing strategy this time of the pandemic. It can be your magic bullet for making money and building brand recognition online.
But have you ever wondered how to make money with webinars? In this blog, you'll discover how a webinar performs and why you should use one in making profitable webinars with tried and true tips below. So, let's get rolling.
1. Consider your attendees
Once you begin the webinar-creation phase, double-check that you have the right people. Answering these questions below will assist you in developing a webinar that is focused on encouraging the participation of the webinar attendees.
Ask yourself:
Who is going to be there?
What are their objectives and interests?
What are the pain points they have to deal with?
To find out who they are, you can provide the important content they need to the right people, which is the main aspect of producing a successful webinar.
2. Choose a webinar platform
Webinars have come a long way, and webinar software has evolved to keep up with the demand. Webinar platforms come with a range of features and rates, and others have a limit on the total of people who may participate.
Moreover, the registration, notification, and follow-up emails can all be handled by the right webinar platform, and it can also assist you in putting on a smooth presentation. Just be sure to try out the sample versions to see if they suit your marketing needs, and then purchase those that work with your optimization funnel.
3. Use high-quality recording tools
If you want to make webinars a long-term method, don't spend less money by getting some old recording tools and equipment that does the task. Successful webinars could necessitate a powerful combination of tools to record with minimal noise, mistakes, and great lighting.
There are different kinds of web cameras, headphones, and microphones you can choose from stores. You can't make sales from webinars without the exact and best recording tools to use for.
4. Deliver quality content and flow
Eventually, always have high-quality content and webinar topics that customers are willing to pay for. Attendees will become more likely to come back to specific outcomes and share them with their friends regarding your service.
Here some of the guide on making webinar content:
Make your webinar script before starting the webinar.
Remember to mention key takeaways.
Maintain your energetic and humorous tone.
Finish the presentation on time to provide time for questions from the audience.
Use your potential customers' details and determine the first step of knowing your audience to come up with interesting subjects. Keep in mind that your webinar aims to attract targeted, high-quality potential leads to watching your content.
5. Use visual branding
Maintain consistency and make every effort to match your brand's visual sound. Which also, you need to provide eye-catching visuals to audiences.
If it's your first webinar, make sure to use styling fonts, engaging visual elements, colors, and animation or slides. These help your brand stand out, particularly if you use the same look and feel in your content.
6. Nail your Call-To-Action
The call to action or CTA is the part of your webinar where you ask your guests to buy something. A webinar is your way to sell without making more sales pitch phase.
Make sure your offer is straightforward, appeals to the desires of your customers, is written in the active voice, and directs people to a well-written landing page. We also suggest that you test your CTAs to see which ones work better for your target audience.
7. Promote your webinar effectively
You've planned everything, and now it's time to get people to show up – that is why webinar advertising is so important. Try email marketing, or Facebook Ads or Google AdWords paid advertisements.
Make a public announcement about your forthcoming event. Email is the most effective conversion channel for webinars. Also, use social media sites to post, use a special hashtag across all areas.
8. Set up follow-ups
This tip is to submit a replay video and slides to your participants from the entire webinar. You may have testimonials from those who attended the webinar to inspire those unable to participate in watching it.
It may take some time, but people will be eager to take the next move at each point. And after a few webinars, you'll improve your presentation skills and be able to pinpoint exactly what your target customers want from a webinar from you.
The Secret Sauce for Profitable Webinar
Among all the tips given, it's your preparedness that will complete creating sales from webinars. As a host, you need to prepare yourself by getting fired up before your actual webinar starts. Also, consider online courses with regards to free webinar training to have additional knowledge on the process.
When people know, value, and trust you, they are more likely to buy your product or service. Trust the process of hosting and obtain a good motivation to create the best webinar for yourself, your business, and your attendees' benefits.