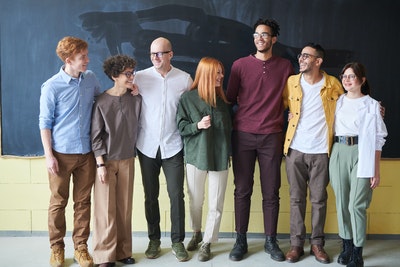 It's essentially impossible to grow your brand to a considerable size without the support of a few skilled colleagues, but often finding the right candidates to join you in your journey to success can be a real struggle.
Sourcing a quality team of experienced and dedicated workers that can help you to reach and surpass your goals can take time, and many people don't know which steps to take to uncover such candidates that can actually benefit their business.
Luckily it needn't be as difficult as you might expect to attract (and keep) the most amazing employees, as there are several simple tips and tricks that you can make the most of to boost your brand in so many ways.
So, if you would like to find out more, read on!
Create A Detailed Advert
One of the most important features of your employee search is the job advert that you post, as this will contribute massively towards the kind of candidates that you attract.
If you fail to put time and care into writing a quality job ad, many top-class job hunters will simply dismiss it. You need to include several different features in a good job advert, starting off with the role you have available.
Describe which main tasks and responsibilities you would like them to carry out, request any related experience, and include expected qualifications to stop applications from those who are unable to fit the bill.
Write about the perks you can provide an employee, including their salary, insurance benefits, or any other similar selling points, as this can further help to attract a quality team that seeks a return for their many skills and years of experience.
You may also wish to include a few interpersonal skills and personality traits that you seek in an employee, such as an eye for detail and punctuality.
Approach Several Platforms
There are several different platforms that you can explore when seeking out new quality staff, so it's important that you can utilize a few options to reach as many potential candidates as possible.
First and foremost, the easiest platform you can explore is the internet – there are so many job sites online that skilled candidates who are hungry for work browse regularly, as well as social media platforms that host job-seeking groups in which you can share your available roles.
If you don't wish to spend time posting your job ads across the internet or have to deal with many hundreds of applications, you can approach an employment agency that can source potential candidates for you.
They can match you with someone who has all of the skills and experience that you require, so all you have to do is perform an interview! Exploring one or more options when seeking new staff will allow you to pick the best out of a much larger bunch, so it is definitely worth the time and effort.
Keeping Quality Staff
Once you've managed to attract a team of qualified staff, you must do all you can to keep them as your employees! It's absolutely vital that you can take the time to ensure you can keep top standard staff happy in their roles so that they do not choose to seek out different, more satisfying employment, otherwise you will have to go through another lengthy search to find another suitable member of staff.
There are several different steps that you can take to keep your team happy, starting off by rewarding their hard work. Setting goals and offering up attractive rewards for those who achieve them can be a brilliant way to motivate your team to stay on the ball, whilst showing them how much you appreciate their commitment to your small business.
Engaging in regular work training that encourages them to widen their skillset can be another great step to take, as this can allow for internal progression which keeps quality staff within your company for years to come.
Providing perks on the job such as health insurance can be of further benefit, so consider the different methods and their expenses to make the right decision for your unique team.
Figuring out how to attract and keep a quality team of skilled and experienced staff has never been so simple when you can take the time to make the most of the brilliant tips and tricks that have been described above.
Your team contributes massively towards your overall business success, so there's no time like the present to upgrade your staff.