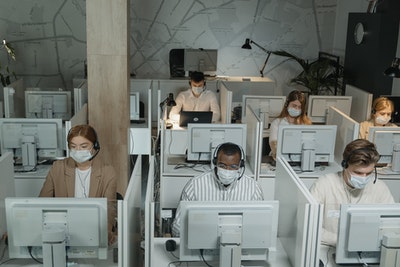 A staffing agency startup is an organization that matches companies to job seekers and vice versa.
They search, recruit and connect companies looking to fill a specific position or role with qualified candidates who possess the necessary experience and skills to fill it.
Staffing agencies have always been a trusted resource. Now, as we continue to navigate the wake of the pandemic, they have grown particularly useful in helping job seekers find work from home and helping companies adapt to the changing workforce.
If you're an entrepreneur who is passionate about helping others find the right career path, you may want to consider opening your own staffing agency startup.
Starting your own business is no small decision. It requires immense amounts of research and countless sacrifices to translate your dream into a reality. We're here to help you get started.
In this article, we've highlighted five tips for building your own staffing agency startup.
1. Evaluate your skills
If you're going to own and operate a staffing agency, it's certainly important to have a passion for helping people find the right jobs for them. However, there are specific skills that you'll need to possess to do this well.
Communication is imperative to thrive in this business. As a recruiter, you are the middle man or woman between the companies and the candidates. It's your job to communicate to each what the other is looking for.
If your client is a company and you consistently bring them the wrong type of candidates, you'll lose the client. If you're working with a candidate and you keep presenting them with opportunities that don't fit their needs and interests, they will stop using your services.
You need to be able to listen to your clients and deliver on their requests.
Networking is another important skill. The bigger your network of companies and candidates, the more potential matches you'll be able to make. If you are good at forging connections and maintaining professional relationships, it will certainly play to your advantage in this business.
Hopefully, you'll be able to manage your agency startup well enough to build a team around you. Evaluate what skills you possess, but also the areas that you're weaker in.
Maybe you're great with people, but you're lacking in organizational skills. Look for employees that make up for your shortcomings to form a well-rounded team to support you.
2. Pick a niche
You'll need to be extremely well-versed and knowledgeable about the industries in which you're staffing. Avoid biting off more than you can chew by trying to staff in as many industries as possible, and instead, find a niche.
Choose an area that you're interested in and become an expert in it. Maybe you love to travel and food. The hospitality industry would allow you to work with individual hotels, larger hotel brands, restaurants, catering companies, event planners, and the like. By picking a specialization, you can become a go-to professional for companies and job seekers within that industry.
Is there a certain industry you are particularly familiar with? Maybe you know the IT industry well and are aware of the companies that are consistently in need of web developers, graphics designers, programmers, or app developers.
You may have an idea where people working in this industry go to look for jobs, i.e. resources like LinkedIn or Facebook groups. You may also have an idea of what keyword or category these individuals are likely to use on their profiles and what pages they are likely to follow.
Focusing on a niche you are familiar with gives you a deeper understanding of what a company needs, which will make you better suited to match them with the right people to join their team.
Creating boundaries for yourself can help you to hone in on a focus and avoid spreading yourself too thin.
3. Determine the amount you'll need to fund your business
Before you dive in to start the business, you'll need to gauge what the cost associated with doing so is going to look like. Create a working budget by listing out all the things you will need and researching what the estimated expense will be for each. Your costs can be divided into two categories: establishment costs and operational costs.
An establishment cost is a one-time setup cost for your business. This may include legal expenses, computers or laptops for you and your employees, the design of your company logo, the software you'll use for accounting, and your website development.
Operational costs, on the other hand, are any costs related to your ongoing operations. These will likely be reoccurring. Membership fees to recruiting platforms like LinkedIn, training costs for new staff, your manpower salary, and if you end up opening an office, rent, and utilities.
You may be able to start really small, on your own from home. However, as you grow, your costs will too. Staying on top of expenses helps you to project future costs so you can determine if you'll need to apply for a loan.
4. Start building your employee database
You should start building your employee network before you officially launch your operation. Your employee network is the pool of talent you have forged relationships with and can reach out to once you start taking on clients.
This way, when you are open for business, you can hit the ground running with a network of contacts. Connect with people on LinkedIn and join staffing groups on Facebook.
Let them know you're planning to open your own business and want to connect to discuss future opportunities to work together. Gauge who is interested in utilizing the services of a staffing agency and keep in touch with them.
5. Be open to feedback and mentoring
There's no such thing as a perfect startup. Every business has areas that can be improved upon. The best way to make these improvements, and thus grow, is by obtaining and entertaining feedback.
If you haven't launched your company yet, consider looking for a mentor who has done something similar to what you are trying to do, and who can help guide you.
The ideal mentor is someone who has expertise in the industry you are looking to work in, and who can provide you with invaluable insights that help you build a strong foundation for your company. This could be anyone from a college professor or family friend to a former colleague or boss.
Once you've launched your startup and are working with clients, don't shy away from asking them for their feedback. This will allow you to gauge where you're excelling and where you are falling flat.
If you have a dissatisfied client, understand why they were disappointed in your services so you don't make the same mistakes. This will help you with future clients, but also shows the existing one that you care about enough to improve and grow.
Final thoughts
Bringing your staffing agency startup to life is within your reach if you dedicate yourself to it. We hope that these tips will help inspire and motivate you to take those first steps in making your vision a reality.
Particularly during this pandemic, people need help finding work and you could be a resource that provides that help.