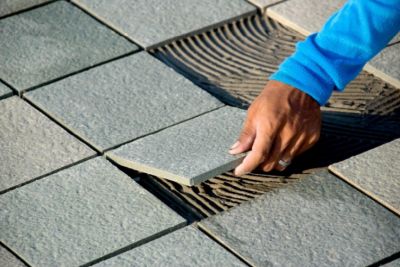 Whether you want to add to the selling value of your home or you just want to improve the way it looks, updating your flooring is always a good idea.
However, it's also one of the most difficult and expensive changes to implement. After all, you have to strip your home of its current flooring materials, clean everything up, and install your new floors.
If you're considering a DIY flooring project, you might want to reconsider. Many homeowners believe that DIY flooring can save money, but the reality is that improper installation can end up costing more overall.
For a well-finished job, flooring installation requires heavy machinery and precise knowledge.
If you underestimate your material needs or don't prepare subflooring properly, your project will end in disaster. For beautiful floors, it's best to rely on the expertise of professional floor installers.
As such, it's important to take your time in deciding the right flooring type for your home.
Whether you want your property to look good for home buyers in Charlotte, it's time for a flooring update. Every flooring type and material has its own advantages and disadvantages.
Here are ways to figure out the right one according to your preferences and budget.
Entry-Level: Laminate Flooring
Affordable doesn't always mean cheap. If you want to get the best bang for your buck, go with laminate flooring.
Laminate is made up of three to four layers, depending on the manufacturer.
The base layer is often made out of particleboard wood. The second is an image layer, which is a high-definition photograph of the flooring type it's trying to look like. It can imitate different shades of hardwood pretty well.
At the very top is a clear layer that protects the board against scratches, stains, and fading.
Pros
Laminate boards give you the look of hardwood for a very affordable price. The average price of installing laminate flooring can be as low as $2.70 per square foot.
They're easy to install yourself, as they're built to snap together easily. There's no need to nail them down.
The top layer of laminate flooring is durable, making it easy to clean stains and spills off of them.
Cons
Even if laminate is durable against scratches and stains, it's still vulnerable to moisture damage. As such, you shouldn't get it for your bathroom or basement.
Once the laminate is worn out, you need to replace it if you want to improve your flooring's look. You can't refinish it like you can with legitimate hardwood. Get your laminate flooring from trusted brands and distributors to ensure the durability of your flooring material.
It may look like wood, but it doesn't sound as deep and sturdy as the real thing. Its acoustics may sound too high-pitched and loud for some people.
Laminate flooring is the dream material for home improvement enthusiasts on a budget. It looks great, it's easy on the wallet, and it's durable. If you can handle the sound it makes, laminate is the perfect flooring type for you.
Mid-Range: Ceramic Tiles
If you want a flooring material that looks and feels more premium than laminate for a bit more cash, consider ceramic tiles.
These cost a minimum of $13.50 per square foot to install, as the tiles alone cost more than a dollar per square foot.
Pros
People get ceramic tile flooring because they're easy to maintain. This material doesn't absorb stains, dirt, and spills, especially if it's glazed. Just wipe the accidents away and you're all set.
Ceramic tiles are very tough. If you install and maintain them properly, they can last more than 20 years.
Although you may have to spend more when it comes to acquiring and installing ceramic tile, it's efficient in the long run. If one tile cracks, you can always replace it, unlike on options like carpet or hardwood where you have to replace the whole thing.
Cons
Tile isn't great for homes in cold areas. This is because it doesn't absorb heat as well as other materials. The upside to this is that tiles stay cold during hot seasons, too.
This material is quite hard, so stepping on them can be uncomfortable to walk on for some people.
High-End: Hardwood
If you want a no-compromise flooring material, hardwood is for you.
This is one of the more expensive flooring options, as it can cost as much as $25 per square foot, depending on the type of wood.
Pros
Hardwood flooring is extremely durable. They can last hundreds of years if they're cleaned and sealed properly. Unlike cheaper materials like vinyl, they won't end up looking worn out after it's seen constant foot traffic for years.
Hardwood floors, especially sealed ones are resistant to dirt, spills, and stains. A quick mop, rinse, and wipe down can make them look good as new.
This type of flooring material has a timeless look, too. You can't go wrong with the grains and variety of deep and light colors of wood, whether you're going for a rustic or contemporary aesthetic for your home.
Cons
Hardwood is sensitive to moisture, especially if it's unsealed, as it can cause the material to rot. If you have moisture issues in your subfloor, you may end up with a hollow-sounding floor or visible mold on the hardwood in a few years.
Hardwood may be resilient against the elements, but it's no match for termites. Infestations happen to common types of wood like spruce and redwood.
Putting your home on the market without making improvements is one of the biggest selling mistakes you'll make. A flooring upgrade is great because it provides a noticeable improvement in your home's look. Use these suggestions to find the right flooring material from the start.