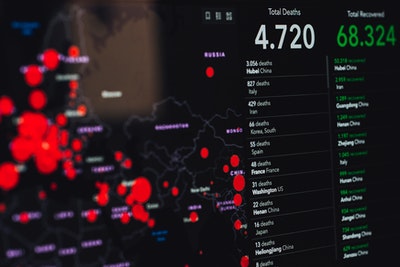 The COVID-19 pandemic dealt a massive blow to businesses worldwide, and many are still reeling from the after-shocks. As some companies closed down operations, others established work-from-home policies to sustain jobs and productivity.
However, after several months of the new normal, employers are preparing to have staff return to work in the office.
In a survey by PricewaterhouseCoopers, 73% of American businesses planned to reconfigure physical spaces in adherence to social protocols.
This article addresses financial preparations and considerations for employers.
1. Employee testing and certifications
It is expected that employees will want to consider their staff's health and safety before returning to work from the office. If legally permissible, companies will evaluate employees on the grounds of a negative Coronavirus test result.
This will mitigate risks while managing and monitoring employee health. For instance, an employer may have to invest in temperature scanning machines at office entrances, automatic hand sanitizing dispensers, among many others.
An employer may also have to provide the necessary tools for employees who may continue working from home. It may not be a severe case, so the affected person can still operate from home until they test negative.
Whether your business is a small one or a conglomerate, this will require financial commitment to carry it through for as long as the pandemic lasts.
2. Office hygiene and seating arrangements
The office must practice hygiene during working hours. It may include fitting Plexiglas barriers in public office workstations, improving disinfecting regimes, and creating new office spaces to observe social distance protocols.
In spacing out seating arrangements in the office, reserved places such as conference rooms may serve as additional workspaces. It would help if you considered investing in high-efficiency air filters to improve the office's ventilation rate.
Most importantly, depending on the type of business, an employer may be responsible for providing PPEs for employees. Nose masks, face shields, disposable overalls, and protective gloves are protective items you should invest in. Furthermore, an employer may have to take drastic steps to reduce crowding in elevators while restricting access to common areas.
If there is an office canteen, employees may have to access it in groups at a time. That will also require a professional cleaning team to sanitize all surfaces after each group.
3. Group health plan coverage
As an employer, you may have to reconsider a group health plan coverage for staff returning to the office. It should include sufficient content for COVID-19 in case a worker contracts the disease in the line of duty.
A health insurance plan you opt for staff must consist of the full cost without elements of co-insurance or deductibles. It must also extend to all lab test processes for the whole period of the pandemic.
More importantly, there should be no discrimination in health network providers.
4. Invest in risk management practices
The potential risks in returning to work in the office in a pandemic season are vast. For those who may combine a work-from-home policy with in-office operations, they could be most at risk for cyberattacks.
That also includes protecting intellectual property exposed to unauthorized persons. It explains why you should invest in modern technology to monitor work progress and cybersecurity.
Furthermore, for businesses with branches spread over several locations, management must consider implementing uniform practices. It is an excellent way to compare strengths and weaknesses where risk management is concerned. Risk management should cut across strategic, operational, reputational, and financial areas.
For risk management practices to be a success, employers must encourage employees to report any activity that may put the business' interests at risk.
You should include clients and suppliers in this exercise as they are likely to identify significant risks you may not have considered. To enhance effectiveness, all practices must be reviewed periodically.
5. An employer may require particular policies for high-risk employees
Mainly because COVID-19 could be fatal in persons considered 'high risk,' employers may have to devise some incentives to encourage them to return to the office.
Persons with heart disease, lung problems, older adults, and diabetes are under this category. As the business operator, it is your responsibility to determine how these people can return to work without violating the Americans with Disabilities Act.
In addition to CDC's recommendations as offices gradually reopen, high-risk workers should be a crucial consideration for employers.
To help you assess their willingness to return to the office setting, conduct an anonymous digital survey; that could be a starting platform for you.
To make it easier, including the subject of incentives (monetary or other) and how that may influence the decision to return to the office.
6. Loan considerations
As the owner of a company that received a state or federal stimulus package, now is the time to reconsider your options.
First of all, examine every related requirement associated with the package given. If it was meant to sustain operations as you furloughed workers, a return to the office might mean hiring a lawyer to provide counsel on the way forward.
Furloughed workers still have a contractual agreement with the employer in question; their unpaid leave of absence is only a temporary arrangement until things normalize within the business.
7. Consider the prospects of your staff's child care arrangements
Are you or some of your staff returning to work in the office even though you have minors at home?
Most schools are closed due to the pandemic, so the prospects of a nanny or child care must be high on the list. For individuals, this requires preparing financially to pay the person you hire to care for your children.
As an employer, if you can offer support for your employee's childcare costs, then go ahead, but if you cannot, then you could allow these staff members with kids to spend extended time working from home.
Other options are available, for example, the Families First Coronavirus Response Act (FFCRA) passed in the first quarter of this year.
Under this Act, you can apply for a paid leave (or a sick leave) to care for a minor whose school is closed due to the pandemic. There are terms and conditions for this Act.
First of all, you must be an employee at a company with less than five hundred workers. Also, eligibility requires having children considered as minors.
8. Have an emergency savings plan
In this COVID-19 era, people's finances are in tatters, and you will find it useful to cut back on your expenses to save more. Your emergency savings plan may become a reliable fall-back when things get even more difficult.
How do you save more? Take another look at your lifestyle and assess elements that may not cause too much discomfort if you let go of them.
For example, put a stop to the habit of shopping for more clothes or decorative items to beautify your home. It will save you money to cater to other pressuring situations.
9. Work with a budget
Some employees have had to endure salary cuts due to the financial impact of the Coronavirus pandemic.
If this is you, do not worry too much as there is a way out. It may not be comfortable to do, but it will help you live through a challenging period. For instance, you can rely on coupons to purchase food and other relevant items.
Your monthly income should cover the relevant bills you need to pay. Also, working with a strict budget requires self-discipline and ensures you do not exceed spending limits.
10. Rules of conduct in the office during the pandemic
In order to further reduce the risk of infection at the workplace, consider creating a rota arrangement for staff so that some can come into the office and some can work from home.
This helps to promote a less crowded office space and a more spacious room layout is vital during a pandemic.
For example, if you run a criminal law practice and your team of staff is fighting drug possession charges on behalf of a client, your legal admin staff can work from home while the essential team members that are required to represent your client at court can remain in the office.
If only half the workforce is on-site, then only half the places are occupied – and it is much easier to keep your distance.
That being said, your behavior at work can help to minimize the risk of contracting the virus for yourself and others. The following measures are now an essential part of the COVID-19 code of conduct for the office:
Ventilate the premises regularly.
Never go to the office if you are sick
Hold meetings in large open spaces or outdoors
Pay attention to hand hygiene.
Keep your distance.
Wear a mouth and nose mask if you cannot keep the necessary distance.
Keep a meeting protocol in the office – for example, you can write down who you were in contact with on which days.
Even if these and other protective measures will probably determine your everyday office life for a long time – still try to maintain contact with colleagues in other ways.
After all, human relationships also shape us in the workplace. Perhaps there may be a chat program in your company that can be used to digitally replace chatting in the coffee kitchen – this is an example of an effective temporary alternative.
Companies may not be able to afford the cost involved in allowing employees to work remotely. They consider it a better and more cost-effective way to operate when staff is on-site in business terms.
Besides, asking employees to return to the office setting in a pandemic era must include staff safety, revised HR policies, liability concerns, and appreciating employee sentiments.
More importantly, both employees and employers should be responsible for safeguarding their safety and health as offices reopen.