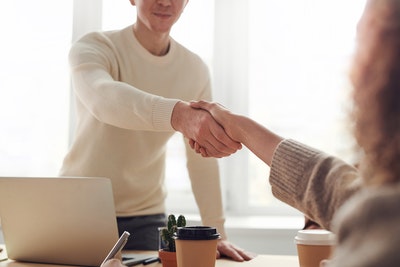 Are you called for an interview for a golden opportunity, but feeling nervous? Don't worry! According to experts, getting prepared for an interview is not as difficult as it seems to be.
With suitable guidance and thorough knowledge of an interview procedure, it becomes easy to make a preparation confidently. You just need to be positive and stay organized throughout the process.
Let us discuss some crucial steps for this purpose, so you go through the process in a relaxed manner.
Get information about the organization
Before going for an interview, you must have sufficient knowledge about the organization where you have applied for a post.
So, you stay updated with their business structure, annual output, position in the market, and working process. It will help you feel confident about the security of your professional career in their institution.
To get an idea about their services or products, visit their websites, or go through their blogs, press releases, and social media posts. The current reviews associated with their business will help you know about the status of the company in the market.
If you want to know their total revenue, the number of offices, employee strength, stability, and projected growth, check their background or history thoroughly.
Read the job description and requirement thoroughly
While advertising a vacancy on web portals or through other methods, recruiters give a detailed description of their requirements. Often, they expect a candidate who can complement the job role or profile properly.
So, read the job description thoroughly and match them with your abilities and credentials. It is better if your maximum skills match with their requirements.
These abilities can include certifications, computer skills, professional experience, subject knowledge, personal attributes, etc. It will help you answer the interview questions like- why are you a perfect fit for the vacancy?
Go for a practice
Practice makes a man perfect. It is also true while rehearsing for an interview. A good practice of preparing for some common Interview queries can help you avoid nervousness while going through the actual process.
As the experts at Job Interview Questions explain, find the position you are interviewing for and review the questions that may be asked of you. If there are questions that you are weak on, be prepared with positive answers.
Take the help of your friends or some professionals a few days ahead of the interview. Make sure the practice interview is conducted exactly like a real interview.
For instance, you can ask some of your friends to be a panel in case of a panel interview or call them to make queries over the phone if it is a telephonic interview.
Dressing code
The first impression in an interview matters a lot, and your dressing sense plays a significant role in this direction. Keep your dress ready a couple of days before the interview.
If you are going to appear for a professional post, wear a business outfit such as a crisp shirt, formal trousers,  polished shoes with tidy socks, etc. Make sure the dress is clean and wrinkle-free.
In case, you are applying for a position in some restaurant, shop, or store, you can have casual attire which should also be clean and well ordered. You may like wearing accessories, but make sure they do not tangle and match your dressing code.
Remember that a well-groomed personality with good behavior and confidence can put a positive impression upon an employer.
Avoid common mistakes
An employer evaluates several characteristics while interviewing a candidate. So, it is essential to be careful about your etiquette and behavior throughout the process of an interview.
To prove your caliber and suitability for the position, evade the common mistakes, and be careful about the following things:
Be punctual and arrive at least 20 minutes before the interview to feel relaxed. In case you are not sure about the best route to reach the organization, use a google map, or program your GPS before leaving.
Prepare all documents beforehand like certificates of qualification, experience letters, resume, cover letter, identity proofs, photographs, pen/pencil, etc. Check properly, whether you are asked to try any other thing such as a notebook or laptop alongside documents.
Do not speak loudly while talking to someone outside the interview premises. It is better to switch off your phone or avoid attending a phone call during the interview.
Do not sit in a hunch position or lazy manner while waiting for your turn and keep a friendly attitude with other applicants who are waiting for their turn. o b
Avoid telling and asking personal questions to the interviewer and do not say anything negative about your previous company or employer.
After getting shortlisted for the interview, a big hurdle of the job search process is already crossed. However, there is much more work that needs to be done, so you grab the opportunity.
Remember, the employer has called you after acknowledging your technical skills, knowledge, experience, and other qualities.
Keeping in mind all the above mentioned crucial steps of interview preparation and avoiding the related common mistakes can help you meet the goal without much difficulty.