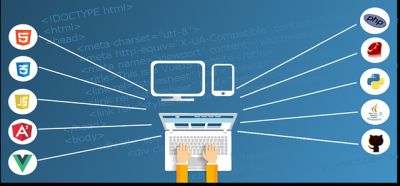 With the way that consumers do business these days, your company needs to have a professional and comprehensive website. Recent studies indicate that 97% of consumers search online for local businesses, and 94% of B2B buyers will first research your company online.
For first time users, creating a site may seem like an overwhelming task. Fortunately, there are many website creation applications. Those at brainboxlabs.com mention how they provide you with templates and all the essential tools you may need to build and maintain your venture's online presence.
It's important, though, to keep the following in mind.
Image by Jan Alexander from Pixabay
Choosing a Domain Name
The term domain name refers to your website's unique address (URL). This is typically shared with potential and existing customers and used to promote your business on social media. It can be the same as your company's name or any text phrase you choose, as long as it doesn't already exist.
It's important to pick something descriptive of your venture, and that's quick to recall. Remember to keep it short and easy to type.
Create a Unique Email Address
A custom email address is essential in making your business look more professional and established.
The business's domain name is most commonly used for this purpose, i.e., [email protected]. There are a few options online that are quick, cheap, and fairly easy to use. They provide you with reliability, security, and a user-friendly interface.
Image by Esther Webgirl from Pixabay
Pick a Web Host
Every website runs off a server that stores all of the data for the public to use at any time. The best option for small businesses is to choose an external host as it's the most cost-efficient.
If you have a bigger set-up with a larger budget, you have two options.
Shared web-hosting – You share a server with several other sites.
Dedicated hosting – This grants you a private server so you won't have to compete with other sites.
It's crucial to pick a reliable web host. It's also essential to monitor your site's performance and the consumers' experience to determine your site's future hosting needs.
Image by Mudassar Iqbal from Pixabay
Things to Take Into Consideration
Here are some tips to help make your website a success.
Make sure your site is mobile responsive. Most people use their mobile devices to shop online and compare prices.
Make your company's contact details visible and easy to find, preferably placed at the top of your home page.
Make your website easy to navigate. Keep your top-level navigation menu down to five labeled tabs with drop-down menus.
It's important to use a balance of graphics and text that presents clean, easy to read pages. Too much information will lead to confusion.
Make sure your website's pages present accurate information and are free from grammatical errors.
Be sure to keep your site's design interesting yet uncomplicated.
Keep your site's software up-to-date to ensure that it runs smoothly.
Ensure that every page of your website entices the reader to do something, i.e., sign up, buy a product, etc.
The Future of Business
Creating an effective website is as important as investing in a storefront that represents your brand. By using our tips, you'll have a site that attracts the consumers' attention and works as expected to ensure that your venture remains competitive in the modern landscape and secure its future.