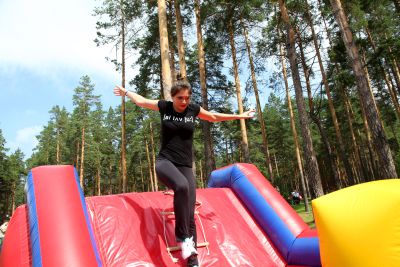 When it comes to choosing promotional materials for your next business event, giant inflatables are a sure-fire choice that will get your company noticed and are a fantastic PR move.
If you are undecided whether they're right for you, read about the benefits of giant inflatables here.
Inflatables are fun!
Whether you opt for a retro air dancer or have a larger-than-life replica of your product made up, there's something indescribably fun about inflatables, and they never fail to make people smile.
This is an especially prudent choice if you are a family-friendly business because kids always love them!
Having a giant inflatable for your business will make people think positively about it and are therefore more likely to do business with you.
You can get pretty much design you want
Getting your logo out there in a meaningful way can be tough, especially when there's so much visual competition out there.
Inflatables are fantastic because there are so many different variations and styles available, and you can even have a custom design of your company's mascot made up!
All of this means that it's incredibly easy to find a type of inflatable product that will help your logo get noticed at the next important business event.
Inflatables are lightweight and easy to transport
If you're constantly on the road to different trade events, you don't want to be lugging around awkward signage that takes up valuable space and are cumbersome to carry.
Inflatables are made from lightweight yet strong materials and collapse down to the tiniest fraction of their full size when not in use.
When it comes to set up, all you need to do is secure them in place, switch on the motor and wait a few minutes!
Inflatables stand out and have a lasting impact
Taking a 'go big or go home' approach to advertising is guaranteed to get you noticed.
A Giant inflatable can slow passing traffic and stop passers-by in their tracks; having your branding on such an eye-catcher is guaranteed to increase brand awareness and get your name out there.
They're budget-friendly
There are a number of different options available depending on your budget – from renting giant inflatables to having a custom design made up and built especially for you.
Even if you go for some of the pricier options, inflatables can still be much more affordable and offer better ROI than other forms of marketing such as TV ads and promotional 'swag'; it all depends on what's right for your business, product and target market! What's more, they cost as little as 14p to run for six hours.
They can provide easy shelter
The versatility of inflatables means they can be used not only as an eye-catching 3D advertisement; you can get inflatables that act as a makeshift yet functional shelter for outdoor events.
Whether you want a branded dome as a standout alternative to a gazebo or a full-size room that doesn't require planning permission to erect, inflatable buildings are resistant to wind and rain, making them a great choice all year round.