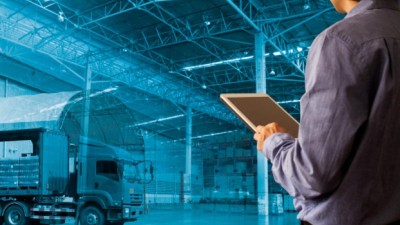 Warehouse management can directly affect your workplace efficiency, your costs, and your bottom line, and for many businesses, warehouse management can be a challenge. Typical problems include recruiting and retaining dependable workers, keeping up productivity levels and keeping costs down, a survey by KANE reports.
All these issues can, in turn, be influenced by the design of your warehouse layout. Indeed, a well-planned warehouse can enhance worker satisfaction, improve efficiency and cut costs. In contrast, a poor layout can irritate workers, disrupt workflow and waste time and money.
Here are four key tips for planning a layout that maximizes workplace efficiency and worker satisfaction.
1. Draw up a Layout Plan
The foundation for an efficient warehouse layout is a well-conceived blueprint drawing. This lets you visualize where everything in your warehouse will go so you can plan efficient storage, pick paths and workflow.
You can draw your layout by hand with graph paper, or you can use a digital floor plan software tool such as AutoCAD Architecture. When drawing your plan, take accurate measurements of your physical space. Note any existing features such as doors, installed shelving or office space that extends into your warehouse, as well as where you wish to place items such as pallet racks.
2. Plan a Smart Picking System
A floor plan of your warehouse puts you in a position to plan an efficient picking system. The essence of a good picking system is that it makes it easy to reach the items your workers need to pick most frequently.
To achieve this, give each stock keeping unit, or SKU, number in your inventory its own location, and place your most popular items close to each other and to the ground. To increase efficiency, design picking sequences that allow workers to pick batches of items on single trips. Alternately, you can assign your workers to different picking zones of your warehouse.
Another way to increase picking efficiency is to use picking automation software. One increasingly popular automation tool is voice picking software, which lets workers receive verbal picking instructions from a headset, thereby saving them time hunting for items. Pick-to-light systems guide workers to items by having workers scan a barcode, which then lights up the item sought. Mobile devices can also be used to guide workers to inventory items.
3. Protect Your Warehouse With a Security System
An effective warehouse plan should also protect your business from losses due to shrinkage and burglary. A security camera system can discourage employee theft and shoplifting, and can also help you identify suspects and recover stolen property.
 Today's best security camera systems use cutting-edge technology such as 4K Ultra HD and color night vision to improve the quality of surveillance footage, making it easier to identify suspects by hair color and their license plate numbers. These cameras connect to a Network Video Recorder (NVR) to keep track of the activity the cameras record.
The NVR also lets you customize how the cameras are recording: continuously, during scheduled times or when movement is detected. For instance, you might want to have a higher-traffic area record constantly, while a lower-traffic area could be set up to record only during motion events or at night.
4. Automate Your Inventory Management
A good layout can save you significant labor time and costs when combined with an automated inventory management system. Automating your inventory system reduces the amount of time your workers spend manually counting inventory, freeing them up to spend more time on productive tasks.
The most efficient way to automate your inventory management is to use cloud-based warehouse management software that integrates with your barcode equipment and point of sale software, allowing you to automatically record when an item is received or sold.
For optimum efficiency, choose software that can integrate with your accounting software, so that your books get updated when your inventory changes.
A Boost in Warehouse Efficiency Is a Boost to Your Bottom Line
A well-designed layout can greatly improve your warehouse management efficiency. The foundation of an effective layout is a well-designed floor plan, which maps out where everything will go. This forms a basis for an efficient picking strategy that optimizes efficiency by minimizing wasted motion.
Additionally, setting up a security camera system protects your inventory by discouraging theft, while deploying warehouse management software saves you time by automating your inventory count.
Following these guidelines can help you optimize your layout in order to streamline your workflow, boost your efficiency, cut your costs, and ensure your workers are more productive and content.
Are you looking to build a warehouse?