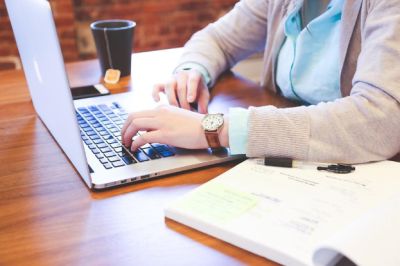 One of the things to do on your own and earn a living from it is freelance writing. With the requisite skills and resources, you can really enough to pay your bills and even save for your future.
Ideally, freelance writing is writing done on self-employment terms where a person writes for money.
They look for WritingJobs from different types of clients based on their skill set and get pay upon the completion of the project assigned to them by the client.
So, how can one make money on writing? Read on to find out…
Help Students with Homework
Most people get started with freelance writing by helping students with academic work. This is usually in their area of training. If you have honed good writing skills in your area of study, then you can offer to write assignments for students at a fee.
Getting jobs in this category will require you to sign up as a writer on a professional writing platform. Even with this arrangement, you chose on your availability and indicate when and what to write. Later on, one can advance and start looking for jobs directly from clients instead of going through a writing service.
Start Your Own Blog
Freelance writing can also be done by getting started with a personal blog. Choose an area of interest and start writing articles that provide useful information and guidance to your audience.
As you increase your readership by posting relevant articles, you can start doing advertisements and get paid for doing so by those who own those ads.
Be a Guest Writer
You can also be paid as a freelance writer to write a guest post on other people's sites. If you have what it takes to write high-quality articles, then this is the job for you. Being a guest writer will require you to have the skills needed for high-end websites.
All you need to succeed is to invest good time and effort in improving your writing skills so that you are able to start writing powerful Blog posts and begin the search for opportunities that will land you good writing gigs.
Web Content and Copies
At this technological age, many businesses are moving online and despite the demand, they don't want to hire a permanent person to do their writing. In that case, they will be looking for freelance writers to do their web content and copywriting texts for marketing.
If you have established yourself as a good writer, you can start writing business proposals, sales copies and general web content and get paid for it. This is indeed a huge business for anyone who wants to venture into this industry.
The Bottom Line
The need for content is ever on the increase at this age and many people are looking for help with online content. If you have established yourself as a good writer, you can start earning from your writing skills.
This is what freelance writing is all about – you perfect your writing skills and then start getting paid for using them to benefit those in need of written content.
Are you looking at getting into freelance writing?