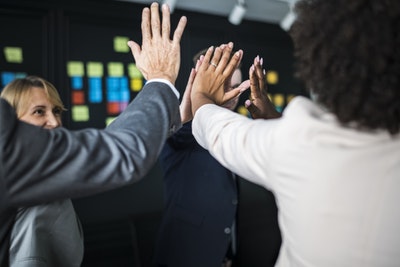 As an employer, it is essential that you are constantly looking for ways to improve the well-being of your employees.
Having staff with high morale is vital for a few different reasons; it creates a positive environment in the workplace, improves productivity, promotes employee loyalty and various other benefits.
It can also be a challenge to keep morale high so read on for a few tips.
#1 Flexible Working
Providing flexible working can do wonders for morale as it allows your employees to suit their work to their lifestyle and demands.
Allowing employees to work from home one day of the week or with flexible hours shows that you care and you are likely to see a boost in productivity and morale.
#2 Positive Feedback
It is obvious, but showing your appreciation and giving positive feedback can have a huge impact on employee morale.
This should go further than Employee of the Month schemes and you should be looking to reward and thank the staff for their hard work with regular rewards and out of office activities together to create unity.
#3 Promote Healthy Culture
Keeping staff fit and healthy can brings multiple advantages for all. As an employer, you can achieve this by providing healthy food in the office, contributing towards gym memberships and putting on your own fitness classes.
You could also set up a cycle to work scheme or even set up an office sports team.
#4 Improve Office Space
Show to your employees that you care by making various changes around the building to make it a better environment for all.
This could include making the building more accessible with ramps so that those in a wheelchair or scooter from somewhere like Mobility Solutions can easily access the building, creating a relaxing break room, increasing the amount of natural light, buying plants and similar changes.
It is also important to have some personality in terms of office decoration and to encourage your staff to make their workspace their own with photos, artwork, plants and any other form of decoration.
#5 Encourage Communication
It is important that employees feel that they are able to communicate with their colleagues and employers and this is how you create a positive and productive working atmosphere.
Make sure that you encourage communication by asking them questions, talking about your own life and carefully listening to what they have to say. It is important to remain professional, but being able to speak about things other than work can have a huge impact on wellbeing.
Employee well-being is incredibly important for many different reasons. Unfortunately, it is often overlooked by employers which can have a huge impact on morale and negatively impact the performance of the entire company.
Make sure that you are looking after your employees with the above advice for a positive working environment.
What are you doing to improve employee well-being?