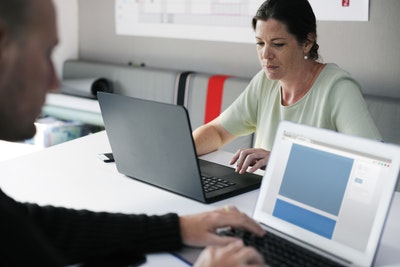 If you're struggling to make ends meet, despite adopting frugal habits, you're not alone.
The past decade has revealed a startling trend in the American economy: while corporate wages have risen, workers' wages have stagnated, with most of the lowest wages paid in the restaurant, retail, and hospitality industries.
Ironically, while most people think of working for a corporation as job security, it's just the opposite. When you become your own boss, you won't get fired for breaking the rules or laid off if your company downsizes.
When contemplating the idea of taking full responsibility for generating an income stream based on your own initiative, the biggest question will be whether or not to go full-out or ease into it. Should you work for yourself full-time or part-time?
The Full-Time Option
If, besides the frustration of not earning enough to pay for all your living expenses, you dislike your job for other reasons–perhaps, because you're not striking a good work-life balance, fitting your life around your work and not spending enough quality time with your family—then it might be a good idea to work for yourself full-time.
Still, it's difficult to launch your own business when you're clueless how to begin. So, if you're short on business knowledge and experience, starting a franchise will quickly get you up to speed. You'll receive comprehensive training on everything you need to know to run a business.
Although the idea of how to come up with the money may be daunting, it's easier to get a bank loan when buying a franchise than opening up your own business. This is because your loan approval won't be based on your own personal business history but will be determined by the franchise's track record of success.
When you buy a franchise, you'll get your own business and territory, but you won't be in business by yourself. Since you're stepping into an existing business model, rather than starting from scratch, you'll get plenty of support and assistance from the franchisor with operations and marketing.
Additionally, if it's a store or restaurant franchise, you'll get help with issues like real estate selection and construction. In short, you'll be equipped to have everything necessary to operate a fully-functional business.
The Part-Time Option
If you like your job–perhaps, because you're in a field you feel passionate about and that offers unique career growth opportunities as you advance in the company—then it might be a better idea to work for yourself part-time.
Unless you have a flexible schedule at your regular job, it's easier to start a side-hustle then get a part-time job. For instance, a rideshare gig with Uber will allow you to design your own schedule.
Another good reason to seek part-time work is to transition from where you are to where you want to be. Think of it as a sort of paid internship, where you can develop contacts and learning new skills.
For instance, if you've always wanted to be a well-paid, globe-trotting photographer who takes award-winning pictures, then a side hustle as a freelance photographer for different magazines will help you build a network of invaluable business contacts with editors and other photographers.For this, Camera Rentals Pittsburgh is a great place recommended for renting photography paraphernalia, for an individual who's just starting a career in photography.
In the course of time, you'll also develop a much broader range of technical skills to help you fulfill your dream of becoming a world-class photographer.
Reboot Your Life
All things considered, becoming your own boss is one the best long-term solutions to taking charge of your career and finances.
Working for yourself, either full-time or part-time, will not only make it easier to cover all your living expenses, as well as enjoy many of the other advantages earning more each month will bring, but it will also lead to a happier life.
We all deserve to be happy with the work that we do, and if you're at a breaking point, dreading going into work every day and feeling exhausted and depressed at the end of the day, it's time to rethink your situation and reboot your life.
While there are challenges, of course, with being your own boss, the rewards are well worth it. When you are your own boss, you'll be able to have greater control of your income, be able to work flexible hours and be able to direct your career.
You'll also find far more satisfied with your work, develop positive habits, and feel motivated to achieve lofty goals. What's more, as you develop your business, you'll be exposed to diverse learning experiences and network with many interesting people.