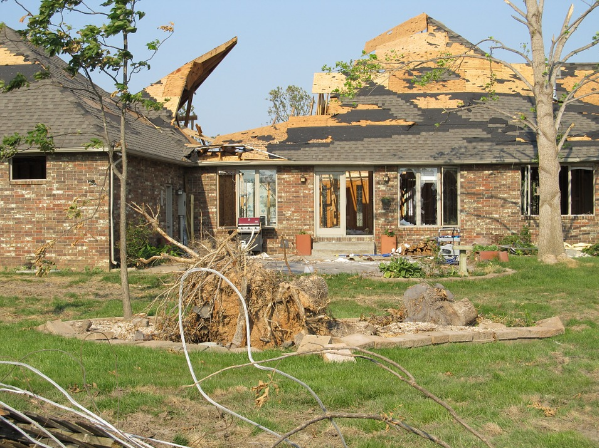 We can live in our house for years without anything going wrong.
And it can leave us feeling blissful that it's safe and sound. But you never know when something bad is going to occur in your home.
Whether it's a pipe link which ends up flooding out your home or a fire which damages your items, it can leave you in a financial mess.
After all, you might not have the funds aside to pay for the damage. A lot of people don't have an emergency fund they can dip into.
But believe us, if something does go wrong with your home, you will wish you did have one. After all, you need to sort the problem quickly before any further damage occurs.
After all, you don't want to leave things like water damage which could end up leading to mold. However, even if you haven't got tons of money aside, it doesn't have to be the end of the world.
Here are four ideas to help you when you do have a home emergency.
#1 Contact Your Home Insurance
We all moan about having to pay home insurance. After all, it's just another bill to add to the long list every month. But if you have a home emergency, your insurance can actually be a saving grace.
In fact, a lot of people who didn't pay for home insurance look back with regret if an emergency does occur. After all, if you have valid insurance, you can make a claim and then get the damage sorted quickly in your house.
You will just have to pay an excess fee to enable them to sort it for you. They will then send a company out who will be able to solve the problem quickly so that you can go back to your home.
In fact, it can take a lot of pressure off you if you don't have the funds to sort the house emergency. After all, the excess fee on the insurance is bound to be a lot cheaper than the money it would cost you to pay a company.
And if you have had to contact the emergency services regarding the fire, make sure you give them your insurance details. After all, they can often provide the proof the insurance company needs to carry out the work.
So it can save time having to wait for them to come out and take photos before deciding how to proceed!
#2 Find Alternative Accommodation
Depending on the damage that is done, it might be the case that you might not be able to stay at the house. After all, if the home is flooded, or even has fire damage, it won't be possible for your family to stay there overnight.
In fact, it might be several days before you are able to go back home! But if you are limited to funds, you might not have the money to splash out on a hotel for a couple of nights.
However, it doesn't have to be the end of the world if you don't have much money. For one thing, it's time to call family and friends. They are likely able to put your family up for one or two nights while your house is sorted.
Or at least know of someone who will have the space to let you stay. Or it might be the case you want to talk to the local council.
They will have a few free options which can give you a roof over your heads. If you need a long-term solution, it might be wise to start looking for some rentals.
There are some places out there which won't cost you a fortune. And you can claim on your home insurance to enable you to have the money to sort you out with alternative accommodation in the meantime.
#3 Get Out a Short-Term Loan
You might not have a savings account you can dip into if an emergency occurs with your home.
After all, a lot of us just get by every month without putting any funds away in savings. But you obviously need to pay for the home repairs as quickly as possible before any further damage occurs.
Therefore, one way you can ensure you do have the funds to pay for the repairs is to get a short-term loan. After all, with the money in your bank, you can quickly contact a company to come out and sort out your home.
And then you can just pay the money back over time. In fact, you often get the option of paying out monthly for the loan. Of course, you need to make sure you choose a loan company who will get the money in your bank ASAP.
Some companies can ensure it's in your account the same day; see Cigno Loans for more here on getting the funds straight away. That way, you can pay the company to come out and fix your home quickly!
And remember to look into homebuyer loans too. These are designed for people who own a home and need money for repairs or enhancements. And they can sometimes be better rates than normal loans!
#4 Ring Your Mortgage Provider and Suppliers
It can be challenging to pay your mortgage and bills when you have a home emergency. After all, all the funds you have are probably going on sorting out the home.
So you might not have money to pay out for the bills. But if you are struggling to pay out for the bills, it's a good idea to get in touch with the suppliers.
Firstly, you should contact your mortgage provider and tell them about what has occurred. Due to the circumstances, they might be able to reduce your mortgage payments.
Or they might even delay the payments and add it to the overall amount. That way, it takes some pressure off you making the payments. Also, it's worth calling your water and energy supplier.
After all, you won't be even living in the house while the repairs are being made. So they can bring the amount down for now, so you have more money!
And remember to make use of any investments you have. Now is the time to cash them in, so you have money to put towards your house!
So what are you doing to prepare for a home emergency?  Share your thoughts and comments below.
-Chris