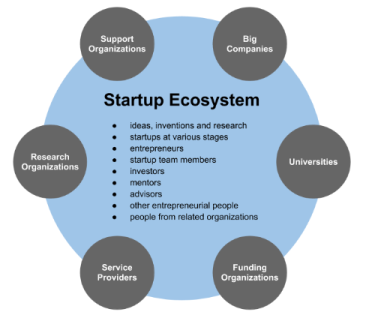 It's important to have tips to help you run your startup. You need to know what to look out for and how to work toward making your company successful.
And that's going to require research and plenty of tips to get you started. So, make sure you follow the hacks in this post and use them to help you.
According to Forbes 90% of all start ups fail.  That might sound fairly big but the truth is it's harder than you think to get a business like this going, and the reasons for the failures can be anything from making a product nobody wants to mismanagement of their money.
So in this article my goal is to share the top tips you should consider as your running your start up.
Tip #1: Who Are Your Competitors?
The first thing you need to think about when you launch your business so who your rivals are.
Sizing up the competition is part of the job, and you have to do it well. Knowing who your competitors are allows you to plan and prepare for beating them.
You have to make your startup stand out and attract clients and customers. And by figuring out who your competitors are you can work out how to surpass them.
Tip #2: What Do You Need to Look Out For?
There are a lot of things you need to watch out for when you run a business.
And it's important to look out for what these are. Your company is going to be at risk from a number of factors, and you have to work on these as much as you can.
For instance, you will have to look out for the risk of lawsuits. Look at this article about Hampton Creek and you'll understand why this is a risk. You also have to be wary of companies competing for market share and targeting your clients.
Always keep making your business an appealing prospect.
Tip #3: Is Your Workplace as Good as it Can Be?
It's important to give some thought to your workplace and whether it's the best it can be.
There are a lot of things you're going to need to work on to get your business up and running. And making sure your place of work is great is essential. This is how you ensure that productivity is at its highest.
You need to keep your staff morale high so that your workers will perform as well as they can for you. And this might mean rearranging the offices, or, even, moving to different offices.
You have to make sure your workplace is as great as it can possibly be to help the company progress.
Tip #4: Are You Marketing Well?
You have to ask yourself whether you're marketing the business as well as you can.
The only way to enjoy success these days is to ensure you are marketing yourself well. You have to promote your brand in such a way that is going to attract customers. This is how you generate interest and income for the company.
So, you need to consult with your marketing team and develop the best possible strategy. If you are marketing yourself well, you don't need to worry.
The business will become much more successful, and you will benefit as a result.
Starting your own company has so many elements to it, and you need to know what these are. It's vital that you give yourself as much of an opportunity as possible when it comes to launching and running your business.
These ideas will help you to set your company on the straight and narrow and ensure you make the right business decisions.
Are you thinking about doing a start up?  What are you doing to prepare and what tips or advice would you give to those getting started?  Share your thoughts and comments below.