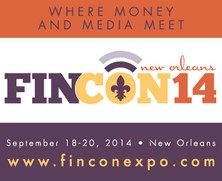 Over the last weekend I had the chance to hang out at #Fincon14 in New Orleans.  If you are not sure what this is it's  a conference where financial bloggers, and media experts get together once a year to talk and learn about ways to improve our businesses.
It's also allowed me to connect with a ton of great people I've been following online in the media such as Forbes, to Kiplinger, to other top financial bloggers.  In the offline world it can be hard to build relationships with these types of people and often times you can fast track yourself by just showing your face and talking to people.
Personally I've wanted to attend this conference since it started way back in 2011 and this year I made it a point to make it to this event as see what so many people have been raving about.
So today I'm going to share my top 7 takeaways from this conference and what I got out of it.  So if you attended or didn't attend this conference you may want to check this out.
My Top 7 Takeaways From #Fincon14
#1 The Networking.  The first thing I found great about Fincon was the networking.  Over the three days I was there I managed to talk to a lot of people and form some great friendships.
More than that it allowed me to get a chance to talk to these people one on one and get to know people in a way that the internet just can't provide.  I also found it very easy to just walk up and start talking to someone.
I've been to a few conferences over the years and I found it really easy to connect with people and talk.  I think a lot of this is due to the fact everyone is in the personal finance niche and that it's so much easier to relate.
#2 Keynote Speakers.  I also found the keynote sessions to be very inspiring and motivating.  Whether it was Jeff Goins, Chris Ducker, Farnoosh Torabi or Dr. Danial Crosby, they had some great advice.
Of all of them my favorite was Chris Ducker's since I've been following his work for a few years now I've found his talk very helpful.  I was able to grab a front row seat for his talk and it felt as if he was directly talking to me and my situation.
Quick Tip: Just a quick tip when you're attending a conference try to find a seat in the front row if possible.  It seems as if you tend to get more out of it than if you were to sit in the back.
#3 The Community Events.  One of the first things I did when I got to there is that my wife and I attended a community event where they were doing a tour around the French Quarter in New Orleans going different microbrewery's.
I found this a great way to break the ice and get to know people.  Their were 50 to 60 people on this tour and I ended up talking to a bunch of people.  I personally felt this was a great way to kick off the conference and get to know people.
Most conferences start  out by just shoving you in sessions and while I think this is OK I'd rather take the time to get to know people before hand this way when your are attending the rest of the conference it can be easier to strike up a conversation.
#4 The Media.  I also found it very interesting how many people from the media were there as well.  I say this is interesting because I would be talking to someone and I would ask them what site they wrote for and they would say Forbes, or Kiplingers to name a few.
Some of these people even asked me for my card which I found very interesting.  Now I don't know if this will ever materialize into something but it was just great to have the opportunity to speak to these people.
On top of that connecting with some of these higher up media professionals can be hard to do over email but when you meet them in person it can make a huge difference, and sometimes that's all it takes to get noticed more.
#5 The Sessions.  The sessions were also very good.  Personally I did not make it to most of the sessions because I was so busy talking to people and on top of that I also got the virtual pass which will allow me to see the sessions I missed later.
However of the sessions I did attend I found them very inspiring and full of great tips and info.  The session with Grant Baldwin on how to get booked to do speaking events was very helpful.  This is one area I'm looking to get into at some point in the next few years.
I also enjoyed the session with Joe Saul-Sehy on podcasting as well.  He drove some really great points home about how he screwed up his podcast a few times and still managed to create a podcast that get 20,000 downloads a month.
Side Note:  I plan to bring back the Stumble Forward Podcast shortly as well.  So be on the look out for that in the near future for new episodes.
#6 Bring Your Spouse.  The sixth takeaway I got from this event was not something that happened there but rather something I did and that was that I brought my wife along with me.
I noticed a few people did bring there spouse besides me but a large majority did not.  I decided to bring my spouse because I really wanted to her to see what I was doing here.
A lot of times we financial bloggers spend countless nights up late working on our businesses and sometimes it can make our spouses wonder, why are they doing this?  
Bringing my wife along showed her how much I enjoyed this and what I really like to do.  However one thing I was worried about was that she might get board but that actually did not end up being the case and she had a great time.  Even if she never comes to another Fincon I'll at least know she understands why I do this.
#7 Smaller Crowds.  Finally, the last takeaway I got from #Fincon14 was that it was a smaller crowd conference.  For some people they might consider this a negative attribute but I found it more helpful.
Some conferences can have upwards of 5000 or more people at them, however with a smaller event I felt it to be more personal and not so over crowded.  In total #Fincon14 had 600 attendees which was more than enough people for me to talk to.
On top of that since the conference was so much more niche focused toward the personal finance crowd everyone could relate a lot easier.  I personally found it much easier to strike up conversations and in some cases just walk up to people I've talked to online and just connect.
As a result I will more than likely be at the next Fincon because I got so much value out of it.
Wrapping Up
Finally, wrapping up I had a great time at the conference and I may just return next year but it's to early for me to tell at this point.  However I did have a good time and I'm interested to see just where they plan to host Fincon next year.
Did you go to #Fincon14?  If so do you plan on attending next year?