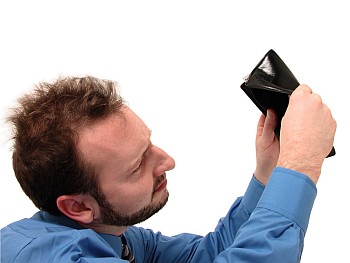 Most people care a lot about their finances. After all, the amount of money people have has a significant effect on their quality of life. As a result, they often think about what they should do to have a stable financial future.
What's also important, however, is what things you don't do that might have a negative impact on your financial well-being. We'll discuss seven of those things in this article.
1.    Save your money: Starting to save early and saving as much as you can will truly pay off. Unfortunately, the majority of Americans don't have enough money for retirement because they haven't saved enough. Don't be like these people. Just by starting early, you can easily generate hundreds of thousands of dollars that could be used to make your retirement more comfortable.
2.    Protect your property through renter's insurance: Most everyone has a friend or loved one who has had their apartment broken into or has had the misfortune of having their property damaged by a natural disaster. If you're concerned about any of these unfortunate events happening to you, getting renter's insurance can save you thousands or even tens of thousands of dollars in case you experience the worst.
3.    Avoid unnecessary debt: Though financing extravagant purchases might seem tempting, you'll generally want to avoid going into debt. There are exceptions, however. If you're reasonably sure that you'll be able to profit in the long term through debt, like in the case of getting a college education, using a solid plan to start a business, or buying a house that will likely appreciate in value, getting into debt may make sense. A necessity such as a car may also be a reason to consider financing.
4.    If you must go into debt, pay it off quickly: Letting debt accrue could cost you significant amounts of money. To avoid having interest rates get the better of you, pay off your debt early and as fast as possible. If you let debt with a high enough interest rate accrue long enough, you could end up owing twice the value of the loan. You won't have to be in this situation if you pay off your debt proactively.
5.    Invest: Everyone with money to spare should be investing. The most important thing to remember when investing is putting your money into a variety of different assets rather than just one. The easiest way to do this is through mutual funds. Especially with today's less than desirable interest rates for bank accounts, you could be losing a lot of money by not investing.
6.    Choose the right job and partner: Getting a job that you don't like or that has inadequate retirement benefits could cost you huge sums of money. Constant resignation can hurt your credibility in the eyes of future employers, and not shopping around for the best retirement benefits will also be a major obstacle toward having enough money available to retire comfortably. Divorce and its financial ramifications can also break your heart in addition to emptying your wallet through alimony or even child support payments.
7.    Create budgets: Having a spending plan can do more than just control your expenditures. It can also give you a means to monitor your spending and determine when you should make major purchases. If you find you're constantly exceeding your budget, you'd be best off determining what your priorities are and what you'd be willing to do more cost-effectively or part with.
What you do can have just as big of an impact on your financial future as what you don't. Make sure you have your bases covered and start early in making adjustments to your lifestyle to protect your financial future. One day, you'll be glad you did.