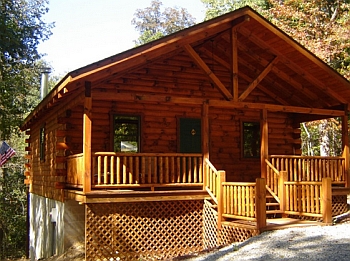 Last week Friday my wife and I set out on a little weekend getaway vacation to spend some time together since it was our 10 year anniversary.  With things being a little tighter on the budget this year I didn't want forgo this opportunity to spend time with my wife.
So with a little persistence and planning we ended renting a small cabin in the Hocking Hills area around 50 miles southeast of Columbus, Ohio.  The picture above is the actual cabin we stayed at.
What's great about this trip is that it didn't cost us much plus we got  tons of amenities from a grill to cook on, a full kitchen, to even a 6 person hot tub, and I will say that the hot tub came in real handy after a long day of hiking.
So what did this entire trip cost us?
In total the trip cost us right around $400 for a two night stay plus an extra $100 in spending cash which I will admit I went a little overboard on but since it was our anniversary and such an important moment in our lives I decided to spend a little extra.
So in this article I'm going to show you just how you can piece a small getaway vacation together just like this.
1. Start Saving Now
The first thing you want to do before anything is to start saving way before you plan to do this.  I actually started saving back in the earlier part of 2013.  I knew I wanted to do something for our anniversary but I didn't what.
The point here is to recognize that you want to just take the getaway.  You may not know where, when, or even why you want to take one but by saving the money now keeps your option open.
Finally, consider how much you plan to spend on this trip.  Consider everything from the place you plan to stay at, groceries, to any extra spending cash you plan on having.  In my case I planned on sticking to a $500 budget.
2. Consider Locations
The next thing you need to do is consider different locations you want to go.  In my case I looked at everything from a trip to the Caribbean,  cruises, to a long road trip but the problem with them all was none of them met my budget of $500.
This is when I started looking more local.  With the cost of fuel I knew we weren't going to be able to go to far.  This lead me to renting a cabin in Hocking Hills.
The drive was only 3 hours away, plus my wife and I love to go hiking in the great outdoors.
3. Go Out Of Season
The third thing I've found to save us a ton of money is to go out of season.  This helped us out with saving money on our cabin and avoid the big crowds.
First off, I was able to rent the cabin just out of season saving me around $100 if the cabin would have been at in season prices.  The first weekend of November isn't exactly the most desirable time of year but the temperatures were between 55 to 63 degrees most of the time which actually made it fairly pleasant.
Secondly, going out of season allows you to avoid big crowds.  I'm personally not a big fan of big crowds and would rather go in the off season to avoid it.  Walking through big lines and dealing with tons of traffic is not exactly my idea of a fun vacation.
4. Bring Your Own Food
Fourth on the list is to bring your own food.  My wife and I actually did a picnic lunch while hiking on the trail.  On top of that with a full kitchen and grill at our dispose we did a lot of the cooking on our own over the weekend.
Which for us I feel meant a lot more than just going to several different restaurants.  Now don't get me wrong we did go to one restaurant while on our little getaway but that was only because some friends recommended it to us.
For me I don't mind firing up the grill and cooking a little food.
5. Enjoy It
Finally, the last thing to do is to just enjoy the moment.  From hiking, to cooking, to sitting in the hot tub at night we had a blast and can't wait to do it again.
What I like even more about these small getaways is it charges up your battery and gets you more focused.  I know people who work all the time because they love their jobs but when you take a small little getaway it can help you in so many ways.
In the end working is still important but what fun is it when you never take anytime out for yourself  to enjoy the fruits of your labors.  So take some time to start planning your getaway today.
Are you planning to take a small getaway soon?