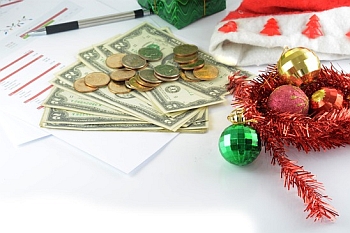 The holiday season is a special time of the year. While it may be alright to overindulge on some extra sweets at the holiday parties, it is not the time of year to overindulge in spending.
If you are not very careful, you may not even realize until your January credit card bills start to arrive, just how much you really spent during the holidays. Unfortunately, many people go overboard during the holiday with food, gifts, decorations, and entertainment expenses.
They often do not consider what the cost is until it is too late. However, with a little willpower and preplanning, you can avoid overspending during the holidays and start your new year off on the right foot.
Set A Limit
The first step to prevent overspending during the holidays is to set a limit for your holiday spending right away. Take an honest look at your current budget, and determine what portion of that you can put towards the holidays and still pay all of your bills.
Once this limit is set, you can create your own holiday budget for where you intend to spend your money. If you overspend in one area of your holiday budget, you must take away from another area of the budget. However, you must stay committed to not going over the total limit you set.
Avoid Impulse Shopping
You must avoid impulse shopping, especially during the holidays. Stores will be packed full of great items and possibly even great sales, but you must stick to your budget.
The first step to avoiding impulse shopping is to make a holiday list. Write down everything that you will need to purchase for the holidays, including food, gifts, clothes, decorations and travel arrangements. Do not purchase anything that is not on your list.
Also, if you see something you are not sure if you should purchase or not, put it down and take a day to think about it. You will be able to think more clearly about the purchase after you have had 24 hours to consider it.
Do Not Incur Any Debt
One of the best ways you can prevent overspending is to put your credit cards away and don't finance the holiday season with a personal loan. If you do not have the cash already on hand to spend, then do not buy it. Using credit cards makes it too easy to shop without realising how much you spent.
If you do not have enough money set aside for the holidays, then be creative. Think about making homemade gifts or decorations, and rather than buy a whole new outfit for the holiday party, just purchase some new accessories to go with an older outfit you have.
Once January comes around, you will be glad that you did not incur any debt due to the holidays.
Make Early Travel Arrangements
If you plan to travel over the holiday season, make your travel arrangements early. You may be able to find special deals and discounts if you schedule early.
You should also consider travelling during the middle of the week if possible, rather than the weekends. Oftentimes, flights and train fares are cheaper through the week versus the weekend.
The best thing you can do to prevent overspending on the holidays is to plan ahead and know exactly how much money you have available to spend.
Make a commitment to yourself that you will stick to your budget, and never head out to the store without your holiday list. There is no reason that you need to spend a lot of money to have a great holiday season.
What are you doing to make sure you stay within you holiday budget?