Since starting my budget back in April I've learned a ton of things.  I've learned exactly where I'm overspending, how much I'm overspending by, but I'm also learning where I'm doing well in my budget and making great improvements.  It's been a very enlightening experience  thus far.
As a result I thought it might be a great idea to share my budget with everyone going over where I did well on my budget and where I didn't do so hot.  As a result I'd like to hear your thoughts as well.
What could I improve on and make better?  Doing a budget will also allow me to get feedback from others and improve my financial situation and hopefully yours as well.   With that said let's get started.
May 2013 Budget
To start May was a tough month for us as you can see from the graph below.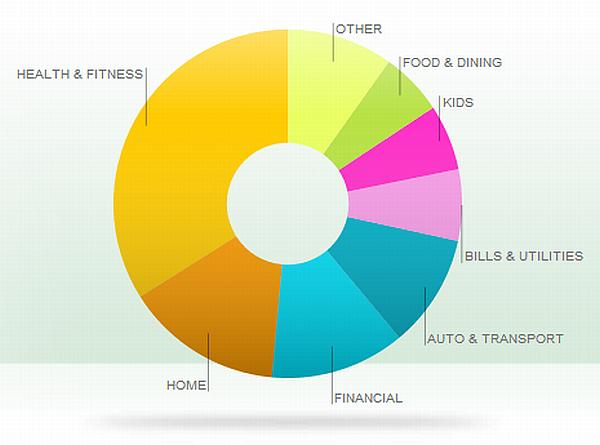 The area we got hit the worst was in health and fitness with everything from doctor bills, natural health stuff, to the dentist. Here's a complete breakdown on the cost.
Doctor Bills – $796
Dentist – $773 due to a cleaning and filling 3 cavities.  Ouch!
Natural Health Supplies – $511
Pharmacy – $36
The only good side to all of this is that the dentist bills won't be a repeat here in June since I only go once a year.  However the doctor bills are not going to be slowing down any time soon since my wife just had her gallbladder out.  Luckily, her insurance is a heck of a lot better than mine.
Now let's focus on what I did great on this month, and as bad as things were with doctor bills and the dentist the areas I did do good in were a welcome surprise.  Below is a complete breakdown.
Gas & Fuel – Normally I budget $500 for this but we only spent $300 in May. 
Groceries – Normally I budget $400 a month for this and we only spent $364 which isn't much of a savings but I'll take all I can get.
How May 2013 Ended Up
When it comes down to it our budget was a complete fail this month, in fact we overspent by a total of $573 in the month of May.  When I look back on May it was a rough month but what's good about it is that a lot of the items that caused me to overspend for the month are only a one time deal, so hopefully things will be on the up and up for June.
So where did you overspend on your budget and where did you do well on your budget in May?