Eating out can be a great experience. You can bond with friends and family over a table overflowing with delectable dishes. Best of all, you get to have a wonderful meal without the hassle of having to clean up afterwards. Unfortunately, eating at a restaurant can also become a gateway to credit card fraud.
In late 2011, 28 people were indicted in an identity theft case that victimized customers of some of New York's top steak houses. The thieves were waiters who used small skimming devices or scanners to copy customers' credit card data. They then turned the data over to their bosses, who in turn created fake credit cards.
People were then sent out to rack up big charges on the credit cards, sometimes as much as $35,000 on each card. The restaurant credit card scams the crime ring perpetrated cost their victims in the range of $600,000 to millions of dollars.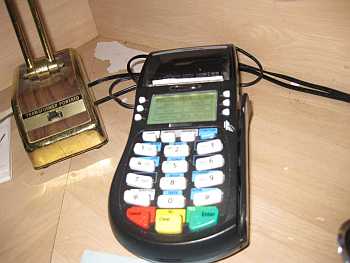 Cases like this aren't isolated incidents. Hackers have apparently long been targeting restaurants and similar businesses for harvesting customer identities. In 2011, data security firm Trustwave's SpiderLabs unit conducted an investigation into a number of data breaches. The firm found that more than 85 percent of the breaches they analyzed came from the food and beverage, retail, and hospitality industries.
SpiderLabs also found that in 75 percent of the cases they reviewed, hackers targeted point-of-sale or POS systems. Those little card scanners with the keypad where you type in your PIN? Those are part of a restaurant or retail shop's POS system. Once they've gained access to the POS system, the hackers are then free to do what they want with the data stored on it. This, of course, includes confidential customer credit card information.
Credit fraud in restaurant franchises such as Subway has an even higher chance of happening. Franchises most often use a single POS system, so once the system in one store gets compromised it becomes easier to replicate the attack in other locations.
Customers have no control over whether or not a business will fall victim to a data breach. The protection of such sensitive data in the restaurant falls on the business' shoulders. The good news is that there are a multitude of data security software and services available to these establishments. The bad news? Most businesses have weak data security. The SpiderLabs report found that hackers spent an average of 173.5 days inside a system before they were detected. That's almost half a year; more than enough time to compromise a vast amount of customer data.
A system-wide data breach may be out of your control, but there are still some steps you can take to minimize the chances of your credit card information falling into the wrong hands. Here are a few key tips to prevent credit card fraud in a restaurant.
Never let your credit card out of your sight. When the time to pay for the bill comes, ask your waiter if the restaurant has a portable credit card scanner. This way, your credit card stays with you while your bill is rung up. Make sure that the scanner they are using is the one provided by the store, as well. An unscrupulous individual can carry their own handheld scanner to read the info on your card's magnetic stripe. If they don't, ask to accompany the waiter to wherever the scanner is located.
Don't leave your receipts behind. Some restaurants' POS systems don't mask your credit card's number and expiration dates on their receipts. If your receipt doesn't have masked numbers, it can become a huge security risk if an identity thief gets hold of it.
Consider signing up for a credit monitoring service. It's an after-the-fact alarm system, but it can still help you minimize the financial damage if your identity ever gets compromised.
Pay for your meal with cash. It's simple, straightforward, and is the only foolproof way to make sure you aren't left open to credit card frauds while dining out.
As is always the case with identity theft, the chances of it happening to you can be reduced through constant vigilance. Just always remember to keep an eye on your credit card and your receipts to keep your delightfully exquisite epicurean experiences from turning into identity theft-fueled nightmares.
***
Joy M is an active blogger who is fond of sharing interesting finance related articles to encourage people to manage and protect their finances. Follow her and know the best ways to prevent identity theft and how to monitor your credit against data breaches.