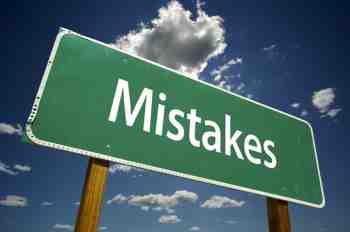 Insurance is a delicate and complicated issue that needs careful analysis and evaluation before signing on the dotted line. Whether it is about taking life insurance, auto insurance or medical insurance, one must be very particular about the details and the terms and conditions to avoid the big insurance mistakes people generally make when buying insurance. Here are seven of the insurance mistakes people make when buying insurance and the way to avoid them:
The Cheapest Price
No doubt price is a concern when selecting a service, but it should not be the only criteria when selecting an insurance company. Insurance companies offering low premium prices often cut corners by way of coverage that they provide. People often overlook the terms and conditions upon seeing a low premium offer, the result of which is visible when the claims are filed.
Therefore, before selecting an insurance company, you should check the credibility (online reviews) of the company, its financial soundness and the services that it offers. The selected insurance company should be able to provide adequate coverage at affordable premiums and clear the payments when required.
Getting Inadequate Medical Coverage
Medical insurance needs to be picked up very carefully as inadequate or incorrect coverage can lead to paying up heavy amounts of out of pocket fees. Often people make the mistake of picking up the cheapest health insurance which provides low premiums, is unable to provide enough coverage.
Health insurance covers certain illnesses and if you understand your health requirements and your financial situation before taking insurance, you would be in a better position to pick the best policy that not only provides correct coverage but is affordable as well. Skimping on medical coverage can leave an individual filing for bankruptcy.
Not Buying Renters Insurance
Often people living in rented homes make the mistake of not buying the renters insurance assuming that the landlord's insurance covers their possessions. However, the landlord's insurance does not cover the possessions or injuries of the tenant. Instead any injury happening inside the house is liable to be paid by the renter in case the injured person decides to sue.
Therefore, taking renters insurance is a prudent move as it provides protection against liability for any injury occurring in the house along with covering the possessions inside. A good way to save money is to search for companies that provide discounts on purchasing multiple policies. You should try to buy several policies such as auto, life and renters insurance from the same buyer as this would save you money.
Buying the minimum amount of coverage for the car
Auto insurance is mandatory in most states and therefore, car and other automobile owners have to get their vehicles insured. However, one insurance mistake that many people make is to buy only the minimum amount of coverage for their car as required legally. This mistake has its repercussions when the car or automobile is involved in an incident, for which there has been no coverage.
A way to avoid making this mistake is to take adequate coverage against body injury and accidental damage. Nowadays with newer cars costing well over $30,000 you want to be sure you have proper coverage in place.
Not Knowing Your Policy
One of the commonest mistakes when buying insurance is not verifying the details. Overlooking the details proves to be costly when you have to pay out of your pocket in case the doctor's office does not accept your insurance. Some doctors do not accept the office policy while others may not accept particular policies until a certain sum has been met on the premium.
Therefore, to avoid this mistake, it is recommended that you verify the details completely. You must speak to an insurance advisor who can suggest the right policy keeping in mind your requirements and financial status.
Flood Insurance Policies
Both homeowners and renters insurance do not cover damages against flood. It is common mistake to assume that the said insurance covers damages caused to property due to flooding.
Flood insurance for all types of homes is provided separately. The policy is not only necessary for those living in flood prone areas but for others as well. The National Flood Insurance Program provides coverage against flood saving you lots of money considering the high cost of replacing the goods which may be damaged due to floods.
Cost of Rebuilding
A common insurance mistake made is to take home insurance that covers the sale price of the home. A common practice is in times when the real estate values have gone down; people choose to reduce the home insurance.
A better way to save money is to take the insurance that covers the cost of rebuilding the home and replacing the belongings. You can raise the deductible on the insurance slightly. This slight increase in the deductible can save a much higher percentage of premium payment.
Author Bio: Charles Henry is a consultant that helps renters find affordable rates on renters insurance.