I covered several ways for you to setup a policy for your child.  Some of those options included adding children's insurance rider or additional insured rider to your policy.  These options are fairly inexpensive but what if you want to set up a stand alone juvenile life insurance policy for your child?
These policies can still be fairly inexpensive but did you know that not every company charges the same rates.  To prove my point in this article I'm going to be comparing two companies and show how different the rates can actually be, and in the end I will show you which company actually has the better rates.
Company Number One
The first company is one of the most well known for selling juvenile life insurance policies, in fact they have a really solid and dedicated program for children.   Here are some rates I quoted.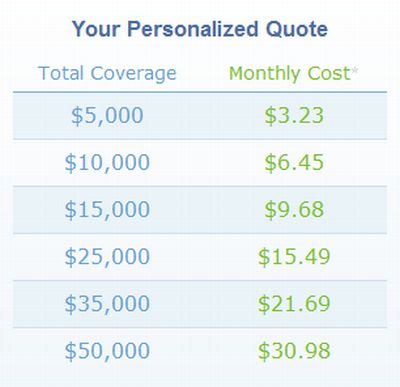 The quote above is for a 3 year old child.  Take not on the monthly cost.  A $5000 dollar policy runs around $3.23 while a $50,000 policy runs around $30.98.
Now lets compare the cost against a competitor company.
Company Number 2
The next company is a less well known company.  In fact I never heard of this company until I did a Google search for them.  Here is what kind of rates I got from this company
Take note of the rates they are charging.
The Analysis
Now that you've had a chance to look over the two quotes take notice how much a $25,000 juvenile life insurance policy cost from company number 1, roughly $15.49.
Now take note of how much a $25,000 policy cost from company number 2, roughly $7.99.
By going with company number one you will pay nearly double the cost over company number 2.  In fact company 1 is charging $7.50 more than company number 2 for the same policy.
So who is company number one you might be wondering?  Gerber Life Insurance.  That's right you heard me.  Gerber Life is one of the top insurers for juvenile life insurance but most people don't know that they are actually twice as expensive as their competitors.
So who is company number 2? Globe Life Insurance. This company charges far less, in fact the first month of their children's life insurance plan only cost $1.
Final Thoughts…
As a final thought it's easy to see that a Globe life obviously has a cheaper deal, and Gerber is more expensive life insurance for juveniles.  However to know for sure contact you local insurance agent shop the market for you.
Question or Comments? You know what to do below.