Recently I've been reviewing my current debt plan and have noticed that I've needed to enforce a few rules.  Not because of any one person but more for myself.  With rules in place as guidelines to keep me on the right path, achieving my goals will have better odds of success.
Here are the rules I've set for myself.  Yours may be different but after reading this post let me know what you would add or take away and leave a comment below.
10 Rules To Staying Debt Free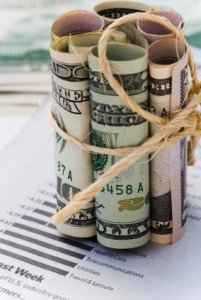 Credit cards must be paid in full every month. I've fallen into this trap before were I say I'll just pay it off next month and guess what it don't happen and then another month goes by and another till finally you have so much debt on your credit cards you can't add anymore.
I must hold to a set budget every month. Budgets come in handy just letting you know where your money is going every month.  Without knowing where your money is at you can run the risk of having money begin wasted in places you don't want. I've talked about this in past articles you can see here.
Any purchases made outside the budget must be within are cash flow left in my budget. For example if I decide I want to buy myself a new guitar and it cost $500 then their needs to be at least $500 left in my budget.  However if there isn't I can't purchase the guitar.
Any purchases made outside the budget must be agreed upon by both spouses. This rule is really used as a way to stop myself from making a bad mistake and getting the opinion of someone else before I buy.  If you aren't married then make it a rule to get the opinion of a close friend or family member before you buy something out of your budget.
Dining out or any other entertainment activities must be paid in cash. These types of activities have a way of stacking up on your credit card.  I've personally fallen into this trap of paying for meals with my credit card.  Instead use your spending cash you've budgeted for yourself on a weekly basis.  This will help by keeping some restraints those activities.
Spending cash is set at a fixed amount and never any more. I've learned over time that have a fixed amount of spending cash makes you more cautious about how and where you spend your money.  If you are use to just pulling cash off your debit card or swiping your credit card this will be a habit you should break immediately.
The first person I pay is myself. Getting out of debt is one thing but staying their is another.  If your not taking preventive measures to stay out of debt then their may be a good chance you will fall back into debt.  Having an emergency fund set aside were you can contribute on a regular basis will help in those times were unexpected surprises may show up.
All debts and bills must be paid on time. Paying your bills on time is not only a good practice to keep up but also may have some negative results on your credit report.
Once the debt plan is in place it can't be changed. By sticking to the plan and not making changes you have a better chance to success.  I've also learned that by changing it whenever you want will always give you that out when you don't want to stick to your debt plan.
Always look for improvement. When your trying to get out of debt you have to look for all the breaks you can get and save money were you can.  Look over your credit card statements and other bills such as your cell phone and look for ways you can cut cost.  Staying up to date on the best ways to save is always a good habit to have.
What Are Your Rules
So now with that said, do you follow the rules or don't you?  Feel free to share how you handle your debt situations and what rules you use to get debt free.  Also if you know of any rule that should be added feel free to leave a comment below.