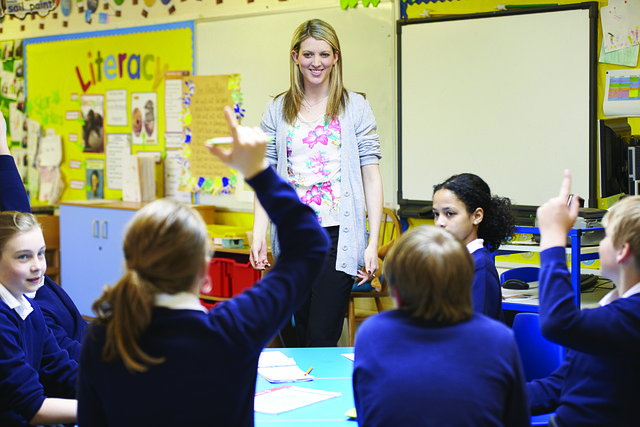 The teaching profession is one of the most rewarding careers you could choose. Not only is a career in education incredibly fulfilling, but it is also stable and offers great work and life balance.
Plus, you can make a real difference in the lives of your students. Suppose you're passionate about education and helping others learn. In that case, a career in teaching could be the perfect fit for you.
Choosing a career can be tough, but education is a great field to get into. There are many reasons to consider a career in education. It's a profession that is always in demand and has a bright future.
For many people, a career in education is all about teaching. And while that is certainly a large part of what education professionals do, there is so much more to it.
A career in education can encompass a wide range of positions, from working in schools, colleges, and universities to developing curricula and conducting research.
Here are some tips to get started in this rewarding field. If you are interested in starting a career in education, these tips can help you get started.
1. Consider Your Options:
There are many careers in education, from teaching in a classroom to working as a school administrator. There are also many different levels of education, from early childhood to higher education.
You can teach in a traditional classroom or work in an alternative education setting, such as a charter or online institution. You can also work as a tutor or an educational consultant. You can take many different paths, so it is important to explore all your options before you decide.
Choose which age range or grade level to teach. Knowing the age range or grade level you want to teach at will help you customize your methodology per your students' needs.
2. Consider Your Interests And Strengths:
When considering a career in education, it is important to consider what you are interested in and what you are good at. Do you love working with children? Are you passionate about a particular subject?
Do you have the required educational qualifications or certifications, and do you have a strong background in research? Think about what you are passionate about and what you excel at, and you'll be well on finding the right career path.
Do your research. You need to know what level of education you want to teach, what subjects you are interested in teaching, and what type of school you want to work in.
Take some time to research the different types of careers in education and find the one that best suits your skills and interests.
3. Get A Degree In Education:
Get an appropriate education degree from an accredited university. It will give you the knowledge and skills you need to be an effective educator.
Various degree programs are available, so you'll need to choose the right one. Consider your career goals and the type of teaching you're interested in before making your decision.
4. Get A Certification:
Once you have your degree, the next step is to get certified. Certification requirements can vary by country, state, and region.
Be sure to check the specific requirements of your locality. You'll typically need to pass a background check and complete a teaching certification program.
Whether you are looking to get one certification or double degree for your career, motivation remains constant. In order to achieve your goals, you must stay motivated; therefore, you have to take active steps to push yourself. For this, many students decorate their study places with fake diplomas or degrees to keep themselves energized to get these replaced with real ones. Also, you can use them to celebrate your little wins and present yourself with an acknowledgment certificate for working hard.
5. Get Experience:
No matter what type of education career you choose, you'll need to get some experience under your belt.
There are several ways to do this, from working as a student teacher to volunteering in your community. Experience will help you polish your skills and make you a more competitive candidate when you are ready to apply for jobs.
6. Consider Your Location:
When considering a career in education, it is important to consider your location. Some careers in education are more in demand in certain areas than others.
For example, suppose you are interested in working with children with special needs. In that case, consider working in a school district with a high population of students with special needs.
Find a job in a school or district that you are passionate about. It will help you stay motivated and excited about your work.
7. Find A Job:
Now that you have your degree and certification in hand, it is time to start your career in education. There are several ways to get started, including teaching in a classroom, working as a substitute teacher, or becoming a tutor.
There are several ways to find a job, including attending job fairs, visiting online job boards, networking, and contacting local schools directly. Make an excellent cover letter, resume, and profile.
It is crucial to have a strong CV and cover letter when applying for teaching positions. You'll have a better chance of success if you do this. Do well in the teaching interview.
Be ready to discuss your credentials and experience when asked. You'll need to be patient. Landing your first teaching job can take time, but don't get discouraged.
8. Tips For Success:
Be patient and work hard. Teaching is a demanding profession, and you'll need to be dedicated to your students and craft. Show commitment and diligence. It takes a lot of work to be a teacher. Be willing to put in a lot of overtime and be on your schedule.
Be a lifelong learner. Possess a love of learning. Education is an ever-changing field, so it is important to keep up with the latest research and innovations. You'll always be learning new things as a teacher. Let your enthusiasm for learning show through in the lessons you teach.
Be a positive role model. As an educator, you have the opportunity to show your students that learning can be fun and rewarding.
Conclusion
Whatever path you choose, remember that a career in education is rewarding. You can make a difference in other people's lives with hard work and dedication.
If you are looking for a career that is both personally and professionally rewarding, a career in education may be the perfect fit. As an educator, you'll have the opportunity to help students reach their true potential.
There are many great reasons to enter this field, so do not hesitate to start your career today.
Finally, remember that a career in education is a long-term commitment. Once you start teaching, you'll likely be in it for the long haul. But if you're passionate about education and helping others learn, it will be worth it.