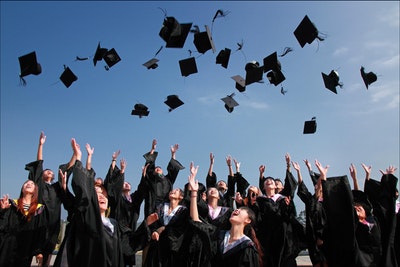 Getting an undergraduate or graduate degree is one of the best investments you can make today. Companies are expanding rapidly and there are more job opportunities to pursue.
According to experts, the current level of growth is also sustainable, which means there will be more jobs for those deciding to pursue a bachelor's or a master's degree today.
Unfortunately, the cost is still a big barrier for many who want to pursue higher education. That is why in this article, we are going to take a look at some of the creative ways to make higher education more affordable. Let's get started, shall we?
#1 Get Support
This first tip is for those who want to pursue a higher degree while working a full-time job. Companies are encouraging their employees to go back to school more and more. Top companies are willing to provide financial aid and additional support for full-time employees who are also studying for a master's degree.
The reason behind this is simple. It is much more affordable – and effective – for a company to support their employees' growth than to recruit new professionals to join the team. Existing employees are already familiar with the culture of the company. On top of that, the company knows its team members better than any potential candidate.
If you are interested in pursuing a higher degree, talk to HR and see if your company offers support programs you can benefit from. You'll be surprised by how much help you can get.
#2 Go Online
Online degrees are the future. More and more students actively opt for online programs due to the extra flexibility and up-to-date curriculums. Top universities are also making their online programs more accessible to students from around the world.
Choosing an online program instead of the equivalent offline course allows you to save up to 40% on tuition and education costs alone. You also don't have to relocate closer to the university. You don't even have to worry about the costs of commuting or relocating.
There are a lot of interesting and affordable online degrees too. The University of South Dakota, for instance, offers affordable online degrees in business administration, health sciences, public health, and many other fields. You only need to find a program that suits you to get started.
#3 Seek Scholarships
Getting a scholarship today is a lot easier than you imagine. There are a lot of programs that will cover your education cost. Even better, you don't have to turn to scholarships based on educational performance to get the financial aid you need.
There are programs for full-time workers, people of a specific social group, and programs that reward you for special skills and abilities. There are also programs designed specifically for online students, so you can make your online degree even more affordable.
All of these options will make higher education more affordable; some will allow you to pursue a higher degree for free. Simply invest your time into searching for the right course to take and the right aids to use, and you'll be ready to get started in no time.
So what are you doing to make a higher education more affordable?  Share your thoughts and comments below.
Cheers!