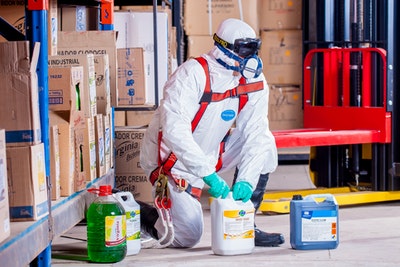 The manufacturing segment is inherently risky as complex machinery, volatile chemicals, and worker inefficiencies can lead to accidents.
Not surprisingly, most business owners prioritize safety as much as quality and efficiency.
A safe workplace is more productive and ensures high morale and loyalty of workers.
It is surely a wise business investment for any manufacturer who wants to attain the benefits of a safe and productive workplace.
Luckily, you need not do much to operate safely day after day. Implementing a few practical measures and improving some processes can take you the extra mile with industrial safety.
Here is a list that can help.
Schedule regular workplace inspections
When it comes to industrial safety, you cannot take a set-and-forget approach. Moreover, you cannot be casual about the risks on your shop floor. A stroll across your workplace may not be enough to identify the safety risks.
There is a good chance of missing out on many of them unless you look for them actively. Scheduling regular workplace and machinery inspection is the key to identifying and addressing every possible risk.
This way, you can look for the slightest flaws and spot things you may have never noticed before. Consider outsourcing an expert to get an objective view and reliable recommendations for improvement.
They can suggest measures like preventive maintenance and predictive repairs for machinery.
Train employees effectively
Employee training is the mainstay of manufacturing safety because people run machinery and handle dangerous chemicals. If they are capable enough to manage their roles effectively, there are no risks on the floor.
Mandate training for recruits, specifically the ones working on dangerous jobs like operating heavy machinery or handling a volatile chemical. Ensure to follow federal and state requirements as you devise a training program for your employees.
Besides educating the new hires, implement ongoing safety training initiatives for the existing employees. When people are up to date on job safety, they do their best and become more productive and loyal to the organization.
You will also want to have the correct gear as well to protect you from a hazmat suit to a mask and boots.
Procure quality materials
Manufacturers often focus on getting high-end machinery to ensure safe operations. But they tend to overlook the quality of materials, specifically chemicals used for ancillary processes.
Substandard chemicals pose danger to people, even when used in small quantities. Look for reliable sellers that never skimp on quality. For example, you can get inorganic chemicals here without worrying about quality and purity.
Find dependable suppliers and stick with them for the long haul.
Double up on storage safety
Procuring quality chemicals is only half the work. The other half requires you to ensure safe handling and storage of all the flammable liquids and combustible materials.
Keep only the necessary amounts of materials in the work area and store the rest in a secure location. Ensure no unauthorized access to the designated storage areas.
Employees must clean up their work zones and store these materials properly at the end of the day. Nothing should be around on the floor because unattended materials can pose a grave risk to the factory.
Encourage safety reporting
Even the safest workspaces are at risk, and the only way to address the threats is by being vigilant. The best way to do it is by encouraging your employees to report threats and risks at the workplace.
As a business owner or manager, you may miss out on the anomalies that workers on the floor can notice. Ensure they feel empowered to bring up concerns about the dangerous equipment or conditions.
This way, you can stay one step ahead of the threats and address them before an incident occurs.
Prevent slips and falls
The safety risks in manufacturing plants extend beyond dangerous materials and machinery. Mishaps like slips and falls and falling objects are equally common and threatening.
Thankfully, they are easy to address because you only need to implement some simple practices to prevent them. Ensure there are no spills and leaks on the floor. Regular cleaning and maintenance of machinery and flooring can prevent them in the first place.
Keeping aisles and exits clutter-free is equally crucial as they enable people to get out in the event of an emergency. Having an emergency response plan for such situations makes employees conscious and confident.
Going the extra mile with manufacturing safety does not cost a fortune. But it can take you a long way with worker safety and business reputation.
Moreover, you can stay a step ahead of industrial compliance and operate without concerns about penalties and accidents. Implement these measures right away to be stress-free.